The ceremony was mostly a blur of waiting, waiting, and waiting, wishing I could peek out at what was happening inside the sanctuary, but of course, that wasn't going to happen for me! Instead I had to wait back in our dressing room NOT looking at my dad so I wouldn't start to cry and mess up my makeup!!
Thanks to pictures (and eventually video!) I can see what happened, and so can you!
We introed with a
slideshow
 playing about 20 min before the ceremony began, with pics of he and I separate growing up, culminating with pictures of us together through dating and our engagement! It was quite the effort but was worth it in the end- thanks to my wonderful baby bro for all his hard work! It ended with one of my favorite songs- "More than Anyone" by Gavin Degraw, which Craig very nicely edited our pics to fit with it! (you have to fast forward to 20:20 to see that part! Bad quality online because it's so huge, but I'm still lovin it!)
Then my lovely sis-in-law, Lindsey, started things off by singing "When You Say Nothing at All" by Allison Kraus. Lindz is a great singer, and I was SOOO thankful for her singing- esp since we waited last minute to pick a song! Thanks, Lindz!!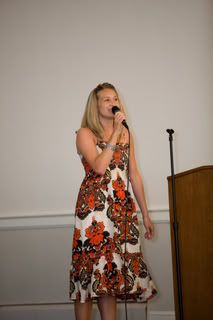 Next came another slide-show to honor our grandparents and my first best friend, who have all passed away. Very emotional moment! As their pictures (often with Ray or I) were shown, a family member came forward and lit a candle in their honor. This was one of the most important parts for me.  They would have all been by our side if they were able, and it was so important to us both to honor them. My 3 grandparents have been gone for awhile, but his both passed within the last year. I was actually kind of glad I didn't see this carried out though, because I'm not sure the tears would've been held back!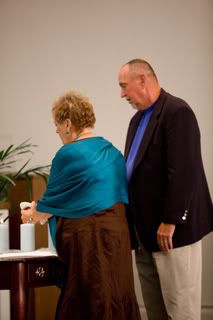 Then the funniest part happened! My grandmother was escorted by my cousin's two sons (her great-grandchildren). Well.....just look at the pictures and you'll see that while Anthony was the perfect escort, Jordan was quite the character.....
All....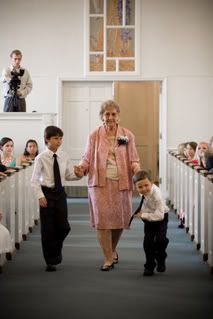 ...the way...
..down!
Fortunately, she thought it was hysterical!! And of course, so did everyone else! Apparently he did it on the way out too!
Next was the seating of our mothers, and the beginning of our
Sand Ceremony
. After walking down the aisle, each of our mothers poured the jar of sand representing their foundation in our lives into the main jar.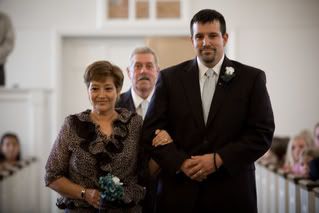 Ray's mom (escorted by his brother/best man) 
My mom (escorted by my brother/groomsman)
Time for the groom!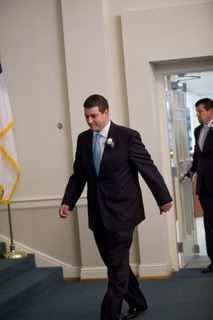 And all his men!
Ladies turn!
                                 
Ashley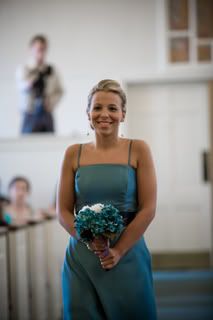 Linda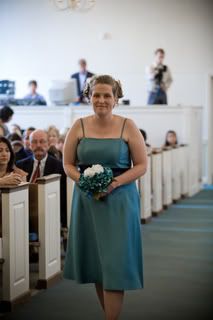 Kelley

Bridget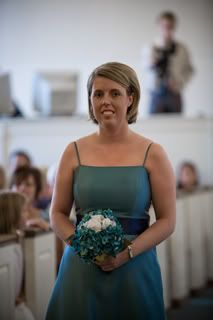 Kerri (not smiling!!)

Brittany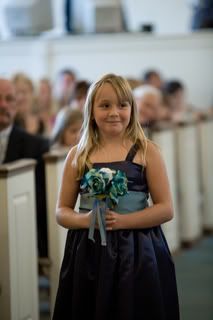 Lauren

Olivia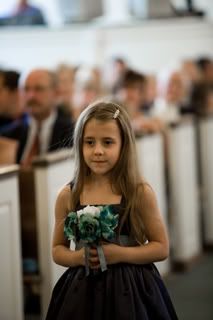 Kaylee, Gabby, and Caylee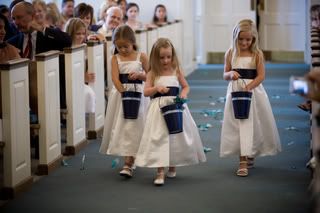 And the big moment....
These pictures of the kids during the prayer, sure highlight the difference between boys and girls! :o)
The cutest thing was that my little ring bearer called my name a few times because he wanted me to turn around so he could take my picture! Hehe! Oh and also he tripped going up the steps to give Kerri the groom's ring!
I absolutely loved the words that our pastor (my childhood youth pastor!) wrote for our Sand Ceremony. It was one of the most meaningful parts for me!
My lovely Aunt Joy read I Corinthians 13- The Message version, which was really pretty and different from the usual reading of this passage! (I happened to read this at BOTH of her kid's weddings! One many years ago, and one last year!)
"I now pronouce you Mr. and Mrs............." My favorite part!!!!!!!! 
You never know how emotional you will get when the actual moment comes! I've shed more than my share of tears at weddings in the past, that's for sure! I did get quite choked up and teary, but I managed to make it! (Apparently, my maids didn't though!)
Afterwards though, I shed a few tears! Definitely tears of joy and "Oh my goodness! I can't believe it finally happened!"
And now.....it was time to PARTY!!!!!