I found this idea for making Raspberry Cordial awhile back at
My Shabby Chateau
. Think I came across it through a linky party, and pretty sure I clicked over because of the blue canning jar I'm coveting!
My Shabby Chateau
I love raspberries and Anne of Green Gables. Remember when she gets Diane drunk on what she thinks is Raspberry Cordial? (So, I'm not really sure what kind of raspberry cordial that was supposed to be, cause a bunch of this will get you drunk too!)
I had some vodka laying around that I figured needed using up!!
I don't have any pretty jars (hoping to soon remedy that!), so I used the vodka bottle and an empty Patron bottle to make this. I ended up having to throw it all in the blender in order to get it in the bottles, so my way isn't as easy or as pretty as Donna's! Do it her way, not mine!
In the process of making it....


It takes 2 weeks to make (gotta let the raspberries soak in all the yummy vodka!), so this is NOT a last minute gift!
I have the world's tiniest strainer, so it took awhile for me to strain all the seeds out at the end of 2 weeks! *Note to self* buy a new strainer before you attempt this again!!
Since I was giving these as gifts to my friends at our Girls' Christmas Night, I wanted to package them up nice!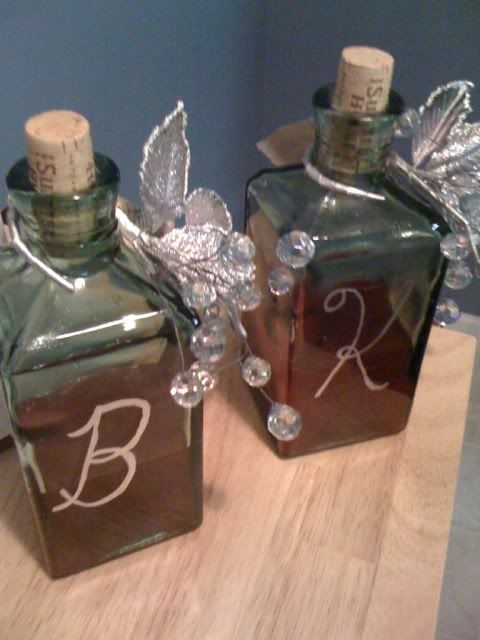 I went to my fave antique store- The Rooster in Nolensville, TN and found these pretty bottles. (The shop owner wasn't sure if they were vintage or reproductions. At $5 a piece, I didn't really care!)
I found the silvery picks at Three French Hens (another fave) next door to The Rooster and wrapped them around the bottle necks. They looked vintagey, didn't ask if they were or not!
I wrote their initials with a silver paint pen, and it can easily be wiped off.
Corks came with the bottles, but the shop owner had to break one to pry it out in making sure that it could come out, and I wanted them to look a little "prettier." I used some wine corks I had saved from bottles of wine- which I probably had drank with these friends!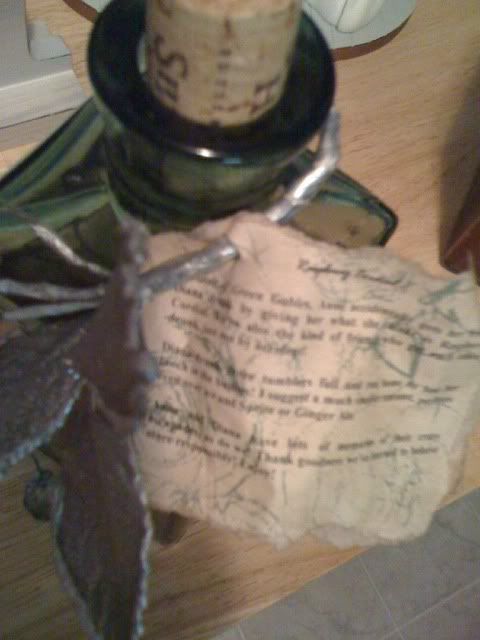 I also made a tag for each one- I used a cream color scrapbook paper with greenish roses, and printed the following on it:


Raspberry Cordial

In Anne of Green Gables, Anne accidentally gets her friend Diana drunk by giving her what she thinks is Raspberry Cordial. We're also the kind of friends who get each other drunk, just not by accident!

Diana drank three tumblers full and ran home to lose her lunch in the bushes! I suggest a much smaller amount, perhaps even over ice and Sprite or Ginger Ale.

Anne and Diana have lots of memories of their crazy escapades, as do we! Thank goodness we've learned to behave more responsibly! Enjoy!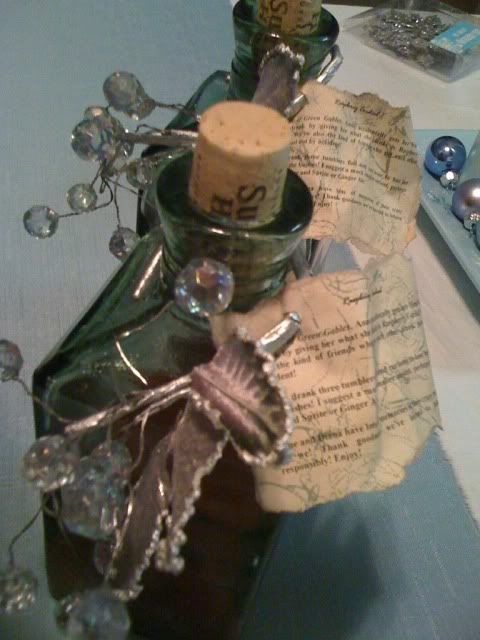 The two friends I gave this two are the friends I have had my wildest escapades with over the past 21 years (since jr. high!) But those wild escapades were in our younger days, ok??! Haha! In fact, this gift inspired us to reminisce about some of those escapades, but not because of it's "influence!" We only had a little taste- cause we're much more "grown up" now!
(PS. I don't mind if you copy this tag idea- but it'd be nice if you'd blog about it and link up to me AND give credit to
My Shabby Chateau
for the recipe idea!)
I hastily snapped the pics with my cell phone, so that's why you can't read it! Also because I made it super small so that the tag wouldn't end up huge!

I ripped the scrapbook paper to give the tags worn edges, and then went over both sides lightly with some Ralph Lauren glaze. You could easily tea/coffee stain these too. I also bent and crumpled it some to give it an old look to go along with the rest of the "old" stuff!

Set them up on the counter along with some glasses for tasting. We used the syrup from the original bottle to taste, and I sent them home with the others. The snowman tumblers were a gift from a student (who made them!!) several years ago.
We tried it straight up- good but too strong to drink much! We looooved it with Sprite over ice! I only filled their bottles half way because a little goes a long way! Didn't want it to go to waste- and also I wanted to keep some!
Since I'm writing about this after Christmas (call me a slacker, please!), you could package them up all Valentiney with red and pink and pass them out to friends, single or otherwise! (See, I'm ahead of the game for Valentine's Day since these need to be made 2 weeks in advance!) It does turn out a pretty red color- just looks darker since my bottles are green!

I will definitely make this again! Hmmmm, maybe for Valentine's Day?!
Check out all these fantastic linky parties from the following fantastic ladies!