I had two of my closest friends since jr. high/highschool over for our yearly Girls' Christmas Night two weeks before Christmas.
While it was mostly about the "aunties" oooohing and ahhhhing over Baby Girl, I did find the time to get the table looking pretty- even if Baby Girl did spend most of dinner sleeping in my arms!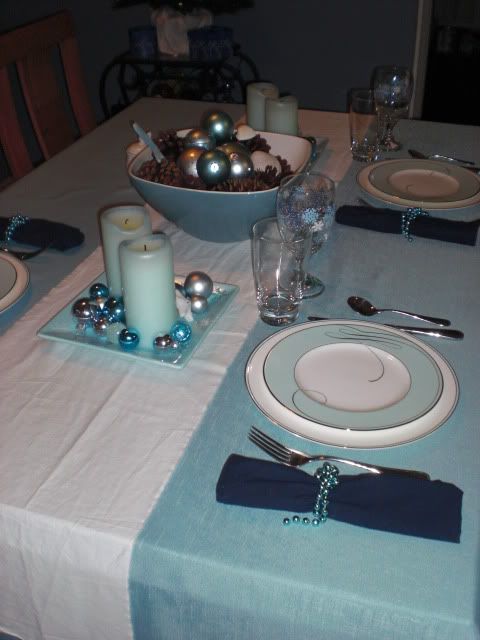 I used an old white sheet that I actually swiped from one of said friend's yard sales as a table runner. Just snipped the ends, then ripped it to create that rough edge. I left it all wrinkly on purpose for 2 reasons- I liked the look, and I HATE to iron. I pull my ironing board out maybe once a year- and even then it's usually to do a project like ironing on a decal to a shirt or something! (The dryer is my wrinkly clothes bff!)
Candles- from my wedding
Snowflake plates on runner- Target clearance a few years ago
Ornaments- also Target clearance
Shells- beaches over the years!
Bowl- wedding gift (not something I registered for- love when ppl know me so well!)
China- wedding china (read more
here
!)
Napkins- Peir 1 clearance from my mom
Napkin rings- beads I cut down and tied on from Target clearance garland I used to use on my tree
Snowflake goblets- $1 at Kroger (they had these again this year, but I had enough!)
Tablecloth- hand-me-down from mom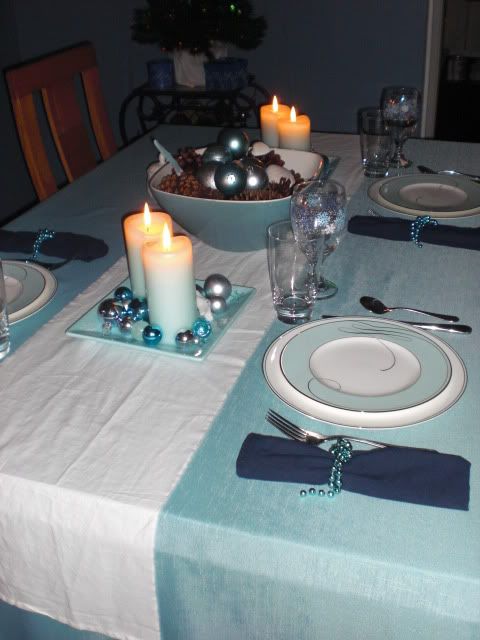 With candles lit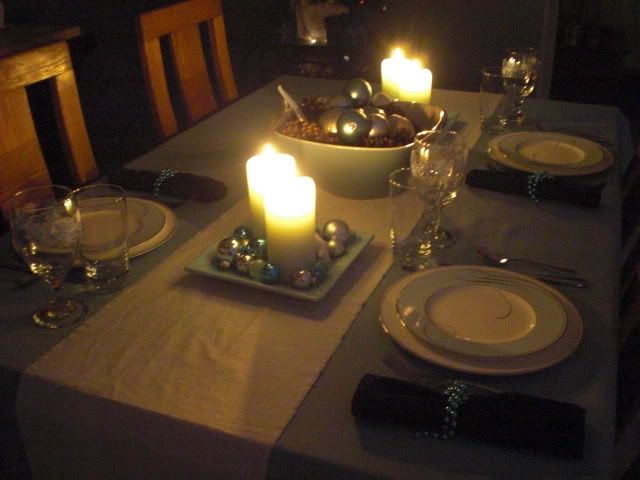 Candles lit, lights dimmed!
Everything in the center stayed on after the dinner throughout Christmas. I'm also using most of this in my winter tablescape I'll show you later! (minus ornaments, of course!!)