So my first craft fair wasn't a huge $$ success, but it WAS a success in that I met a lot of great people, got the word out about my signs, and made a little $$ to boot! There wasn't as much traffic as I'd expected, but it was such a great thing that I actually got started in this new venture in my life!
I prepared over 100 signs for the fair, so I have loooots of inventory to sell now!
I had a great booth neighbor, who I plan on doing some swapping, promoting each others stuff!
I traded for a few things with other vendors, so I walked away with some great stuff!!
And now I know how to set up and run a booth, so I'm very happy with how things went!
Now, I'm ready to find the bottom of all the piles that accumulated in my house while I was knee deep in sign projects!!
So far, everything is clean except my room (always the last to be cleaned!) and the garage which was project central and is now littered with signs that need a place to be stored (but hopefully not for long!)
Here's a few more peeks at my booth!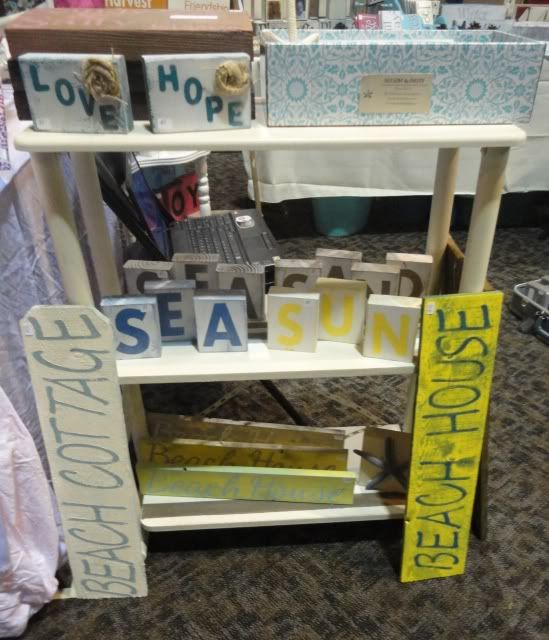 Beachy display
Chalkboard Sign for the booth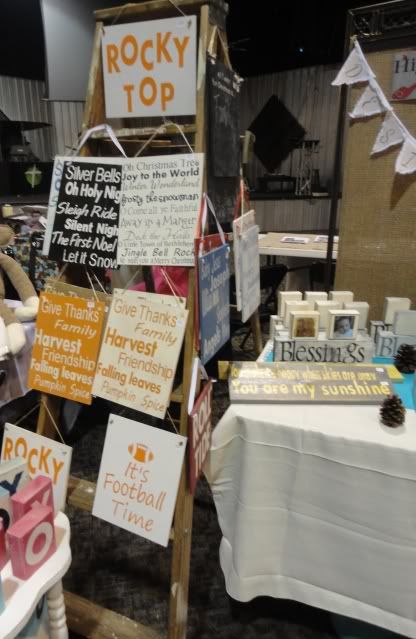 Subway Art on my dad's ooooold ladder! Looooved this display and love my dad for putting it together and letting me put nails in his ladder! I love this ladder and have already laid my claim on it for when he's done!
Main table with Christmas signs and other random signs. The room divider behind was also my dad's idea, and it was perfect for hanging up my bunting and a few signs! I never even thought of putting anything up like that, and I'd love to get old shutters for next time!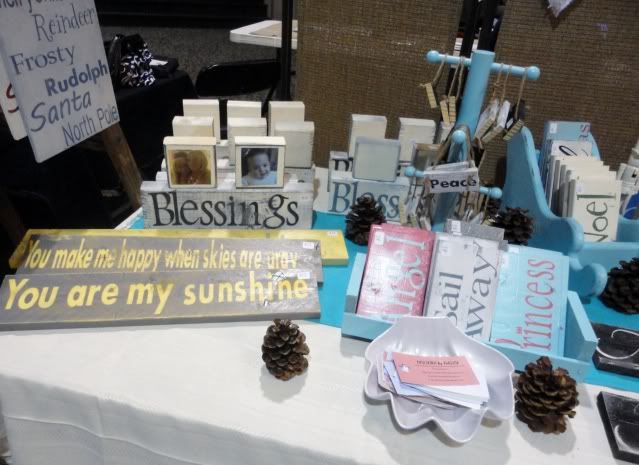 A closer look at all the random signs, and blessings blocks.
A closer look at the Christmas signs!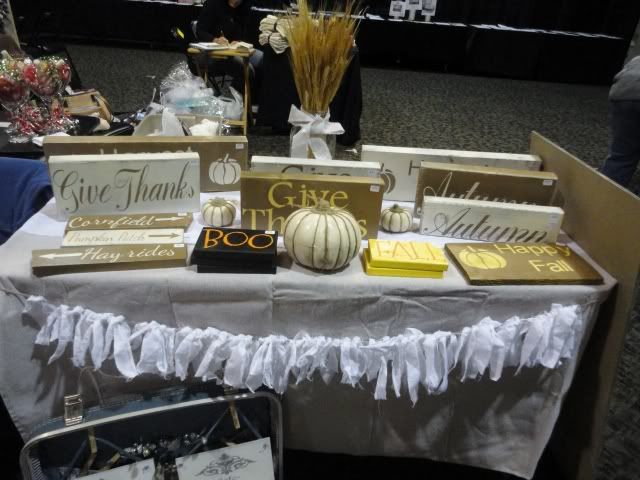 Fall table. Loved this display! With my pumpkins I made last year and a rag bunting I threw together recently when I was tired of making so many signs in a row!
This Frenchy display was possibly my favorite! I found this vintage blue suitcase at a huge church yardsale the week before. The blue perfectly matched the ribbons in the 8x10 signs, and I used my Paris clothespins from
Shabby Creek Designs
(
Gina
is my etsy superstar, aqua-loving, Shabby-beachy-chic hero!!)
I'm adding a facebook page soon, and will announce it here. If you'd like to purchase any of my signs they are going there first at discounted prices through October, then will hit the etsy store (plus more!). I realize that unless you know me, you'll probably want to buy through etsy, so I'll set up a special listing at the current prices if you'd really like something!