So, I've decided to start re-capping everything by hitting the BEST part first- what happened AFTER the wedding! :o) The much anticipated Honeymoon in Costa Rica!!
The wedding was on Saturday, and we didn't head to Costa Rica until Tuesday. Best idea ever! It gave us time to open wedding presents and get things organized. And things were a MESS!! I spent a good part of Monday on into the wee hours of Tues. searching for missing shoes, clothes, and toiletries! That's what I get for having my stuff moving all over the place from 2 hotels, my apartment (which I officially moved out of that same day!), and our new place! Oh and the church and the reception site! (I'm pretty sure that someone out there still has my navy blue Old Navy flip flops I wore to the church that day!!)  So after moving and searching for all our stuff and needing to get up for the airport at 4am, we got 2-3 hrs of sleep! Good thing we were headed for paradise!! :o)
When we checked in at the airport, we were given the option to upgrade to first class!! *Note to budget-savvy travelers- if you use airline points- be sure to do the self check in! For some reason the attendants can't upgrade mile users to first, but the e-check in allows you to!!*

Our first newlywed pic at 4am in the airport--Too early for make-up!

It was quite early in the am and NOTHING was open so we killed some time in the food court, then took our chances to get into American Airline's Admiral's Club! We probably shouldn't have....but we got in! It was so early that the few people there were hardly making a peep, and we quietly said, "Oh we're on our honeymoon and flying first class to Miami and wanted to see if we could get in." And we got in! Technically you have to purchase a one day pass if you aren't a member, but somehow we did it! She did mention she didn't see us on the list, but still let us go!

It was nice to kill some time by drinking coffee and OJ and eating cute little muffins. Btw, there was a basket of apples on the bar- which cracked me up! I made reference to feeling like Monica and Chandler sneaking into the first class lounge in a previous post....and that REALLY made me feel like them- except we were permitted to enter, and could eat the apples! I expected someone to tell us to leave at any moment and we'd run out screaming and grabbing apples along the way! Hehe!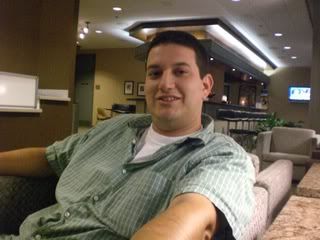 If it wasn't for his head, you'd see the bowl of apples!
I've never flown first class before, and I'm sure to some people it's pretty run-of-the-mill normal!! At first glance, it seems that it's the same as the rest of the plane- except with bigger seats, lots more leg room, and you don't have to sit pressed up against a stranger next to you! However, the free mimosas (or whatever other drink you want!) keep coming, breakfast is served, hot towels are offered to freshen you up, and there is plenty of room to spread out and play your favorite card game with your new hubby (and thoroughly beat him!!)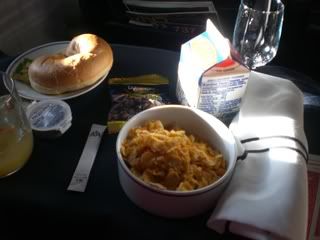 On our next flight, we couldn't upgrade, but the flight attendant sure tried to get us up there once we were on the plane. Didn't work, but she did bring us some free champagne- no one in coach gets that for free!! :o) There is something magic about the words "We're on our honeymoon!" I suggest using them often!!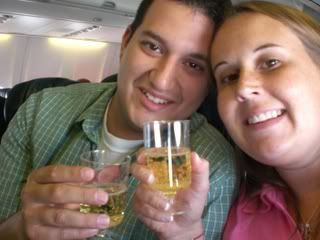 My wonderful hubby was even gracious enough to allow me to have the window seat all 4 flights (2 there, 2 back!). The view as we arrived in Costa Rica was amazing...especially the coast line.
Doesn't even do justice to how amazing it was!!
Customs were a breeze (in and out) of Liberia, and we walked out of the airport to find someone holding a sign with Ray's and our hotel's names. We did have to pay for our hour ride to the hotel, but they actually sent someone from the hotel, along with our driver to get us there safely. They were pretty great. They even stopped twice for us- once for me to use the restroom and once so we could get a drink.
One amazing thing about everywhere we went in CR- I never used a nasty bathroom!! At a gas station, souvenir store, every restaurant, and of course our hotel- the restrooms were spotless! Neater and cleaner than many bathrooms here! That's not something I'm used to traveling overseas, so I was pleasantly surprised. That's not to say they really are all great because I didn't see em all- but I didn't find a bad one!
We have arrived!!!
Our hotel- 
Hotel Capitan Suizo
 was spectacular! Although I'll admit on that first day, jet lag (and wedding-lag!) slapped me big time the second our journey was over and we entered our room! Ray thought I wasn't happy with our hotel, but he hasn't experienced my travel routine- I'm pretty used to running myself ragged before a trip, then traveling all day to an overseas location, and collapsing when I get there- or if unable to collapse, I get in a pretty foul mood! I almost got in a foul mood, but we got food and slept to the sounds of the rain forest and the beach. Best sleep ever-until interrupted by sounds of children jumping in the pool!!
Next up....a full summary of our hotel and what we did in lovely CR!!
Oh my Capitan, how I miss you!!!!