One of the most amazing things about Hotel Capitan Suizo was the natural scenery and wildlife. Even though El Capitan is the bustling little surfer town of Tamarindo, Costa Rica, it really feels set apart at the edge of the town and feels like it's own little jungle/ocean paradise!
We heard there would be lots of wildlife, and there WAS!! Raccoons, geckos, iguanas, lots of different birds, squirrels, monkeys, crabs EVERYWHERE, and skunks. Yes, skunks! We only saw one of those the last night, when a baby skunk walked RIGHT THROUGH the outdoor restaurant! Everyone got completely still for a moment, but it just waltzed right through one side and out the other on its merry way! Thank goodness!!
It seemed odd to travel so far to see some of the same animals we have here, like raccoons and squirrels, but they were actually quite different- especially the squirrels.
They put out food each morning for the birds and squirrels, so that they wouldn't come bother guests in the open-air restaurant, but there was still the occasional gutsy magpie bird that flew in begging for food!
This magpie wouldn't leave until I fed it!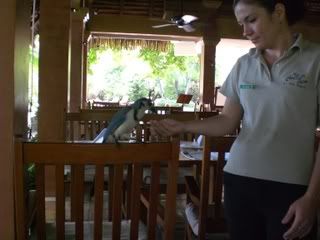 I think the same one was begging food off of our waitress a few days before!
Birds eating fruit outside the restaurant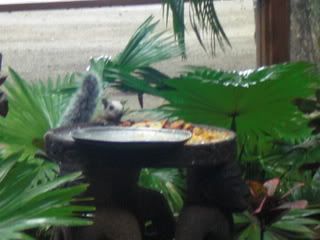 These squirrels were soooo funny trying to "sneak" up on the fruit with no one noticing...when in fact the whole restaurant was watching!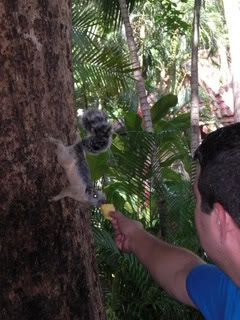 Ray was as bad as the kiddos trying to feed the squirrels!
The best thing was all the monkeys!! The hotel actually keeps and takes care of two baby monkeys, Sophie and Alice. They are adorable! The hotel staff watches them during the day, letting them play in the trees and entertain the guests.
The first night, Sophie jumped right up on my hubby's neck and made herself a new friend! Apparently she didn't want to share, because the moment I reached up to pet her, she BIT ME!!! It was just a little nip on the back of my hand, and although it hurt a bit, it didn't do any damage! It scared Ray for a moment, but then the rest of the week he was thoroughly amused that a monkey bit his wife!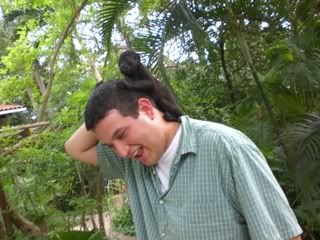 Sophie would have nothing to do with me the rest of the week, but Alice was friendly enough to let me hold her some!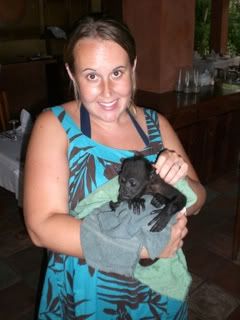 Alice was a cutie! She lost her tail at some point (I forget if she was born that way or something happened!) But she sure still knew how to swing in the trees!
Alice
Sophie- the little stinker!
Supposedly the BEST place in the area to see monkeys is at our hotel! We went on a jungle canopy tour and didn't see a single monkey! However we did have lots of fun, despite looking like TOTAL dorks!
When we came back to the hotel, there were monkeys all over!!! (none of these are Sophie or Alice!)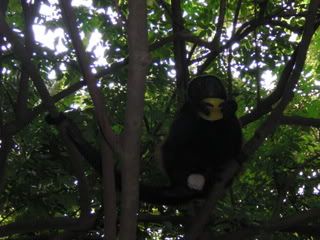 Um.....yes, those white things are their butts....it was pretty gross!!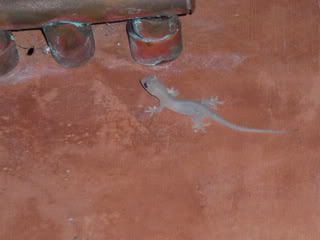 I've seen plenty of these guys before!! This gecko was hangin out above our heads on the post at the restaurant!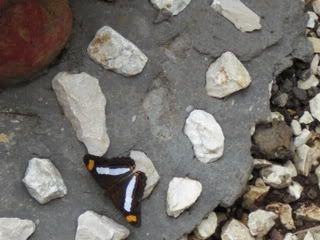 Pretty butterflies were all around
This blue crab was soooo big that you could see it out on the beach from the restaurant (notice what good care they take of the beach--it's raked every morning!!)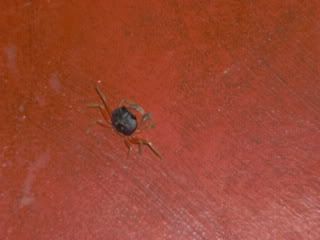 This little crabby was hangin out in our bungalow-- at least our bed was way up high!!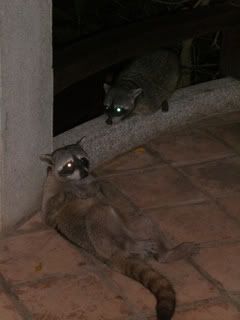 The raccoons searched for food at night, usually eating fallen coconuts and leftover food from the birds and squirrels. They were harmless to us, but we often heard them snarl at each other, so pretty much stayed out of their way!
Iguanas were always lounging by the pool when the sun was out in full force. Now, I've had these crawling on my outside walls and roofs in Honduras and they scared the daylights out of me...however, they didn't really move around much, unless someone brought some fruit by for them, and they sort of seemed like they were on vacation themselves! So I just left them alone (other than to take pics, and they left me alone too!)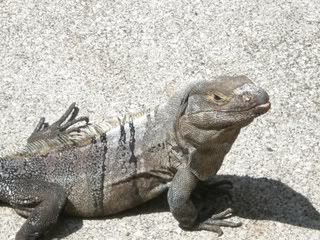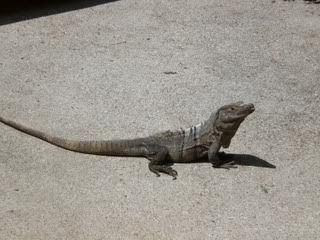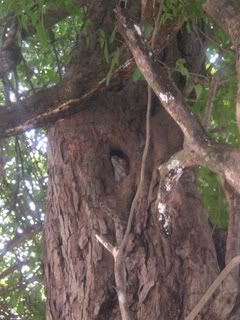 This one was peeking out from the tree at us, laying in our hammock on the beach!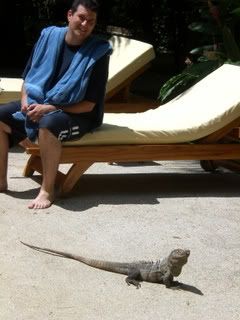 Ray's new friend!
That concludes my honeymoon recap! At least for now!! If you are at all interested in Costa Rica for a honeymoon, I highly recommend Tamarindo, and even MORE highly recommend Hotel Capitan Suizo. But don't just take my word for it! Look it up on TripAdvisor to see all of the RAVING reviews and pictures! It's the 3rd ranked hotel in the area, only because the first 2 are very small, exclusive resorts with very few rooms and they are both Yoga based, and one is vegetarian. We originally booked the non vegetarian one, but decided to go with El Capitan as a cheaper option. So happy with our choice since it was the only one right on the beach!
Happy Honeymooning!!