We discovered our hotel on
tripadvisor.com
, and it was a GREAT decision to research hotels on that site!! I realize that many user reviewed websites may be biased by mostly people treated poorly getting on and ranting about their bad experiences, but we could hardly find one negative thing about the hotel (except for a few years back when there was lots of construction!) Practically EVERY other review completely RAVED about it, and it definitely lived true to the reviews! We were not disappointed in any way!
It was a pretty rustic place, with no TV's, etc. but it was PARADISE!! It really provided an escape from reality, an escape from wedding madness and provided the PERFECT honeymoon experience!
We started off for the first 4 nights in a regular upstairs room with no AC. Your first thought might be, NO AC?? In a tropical climate??!! That was our first thought but the many reviews suggested that it would be ok. Plus it was cheaper, not to mention all that was available! It was actually perfect!! Our room had lots of windows with open screens to allow the jungle and ocean breezes and two ceiling fans. It was occasionally a bit humid feeling, but it truly allowed you to experience the sounds of the rain that came everyday and the lovely sounds of the jungle birds and other animals.
We forgot to take a pic of our room, so this is off tripadvisor,  but this is pretty much what it looked like! Ours was an end unit though, so it had more windows on the left wall. The bathroom is through the door in the back and it was pretty nice with a window breeze too!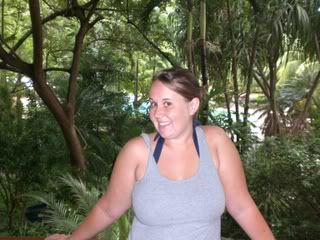 Here is the view from our balcony! You can slightly see the pool right behind me and to the far left by the tree you can get a peek at the ocean. It was much easier to see in person!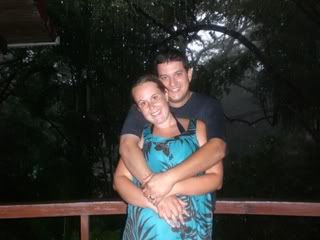 It was even fun hanging out on the balcony in the rain!! It was so peaceful and calming!
Our second room was the honeymoon bungalow. Although it wasn't too expensive, it would've been too much to stay there the whole week! We decided to move there towards the end because we were afraid we'd be too disappointed in the smaller room second!! It was a great decision! Although the rooms are great, I highly recommend the bungalows if you can afford the higher price! They are each like their own little house! The honeymoon one is slightly different in that the bed is up a little flight of stairs, almost like a bunk bed! It was so cute!!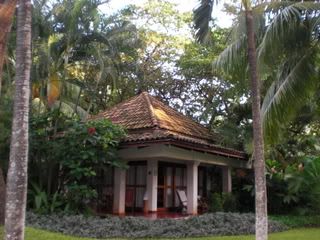 Isn't it adorable!!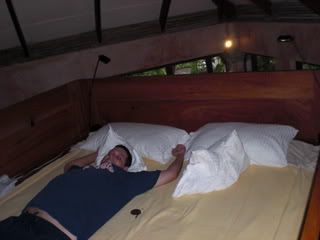 My hubby testing out the bed!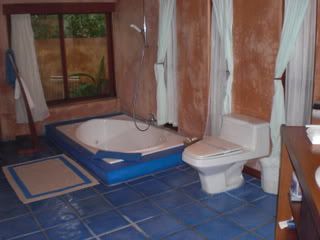 Our huge bathroom!
Outdoor shower that I was too scared to use because if anyone went for a walk behind the buildings, they'd discover me!!
The food was also absolutely FANTASTIC!! We both packed on quite a few pounds eating here!!
The outdoor restaurant was so much fun! It was very romantic at night by candlelight, and cheerful during the day with animals running around and a GREAT view of the ocean! It was literally two steps away from the beach!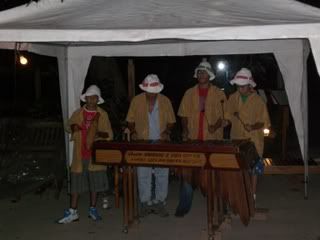 A few nights we even had musical entertainment at the restaurant! This was really nice to hear even from our room at night while falling asleep! No, they didn't play that late, we just went to bed that early some nights!! :o)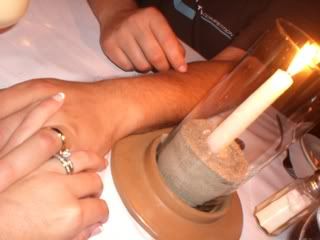 We loved the romantic candlelight that reminded us of our wedding centerpieces! And loved how they made our shiny new rings sparkle! At one point during the trip, a lady asked us if we were newlyweds, and said she could tell because our rings were still sparkly and shiny! Love it!! :o)
Breakfast was fantastic- included everyday- it was a huge smorgasbord of yummy fruit, pastries, and a few hot items. They also cooked food to order, but at a minimal charge.
I started everyday with a huge plate of mango, pineapple, watermelon, and cantaloupe. Best fruit ever! And because it's all locally grown, it didn't bother me like some fruit here in the states. It's weird but sometimes the pesticides, etc. in fruit makes my throat itch like crazy!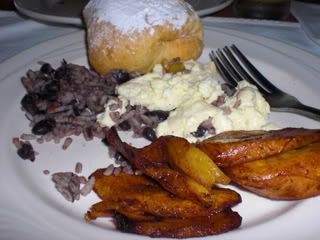 Mmmmmm....my plate of fruit was always followed by this one....apple bread, eggs, gallo pinto (rice and beans), and platanos (my FAVE!!)
For dinner, we ate......
Giant shrimp
Rollitos de tilapia (Tilapia rolls)- these were soooo YUMMY!!! They were strips of tilapia, rolled up and drowned in butter, cream and spices! Soooooo good, esp when they were gone and we dipped our bread in the leftover butter! We ate these pretty much every night!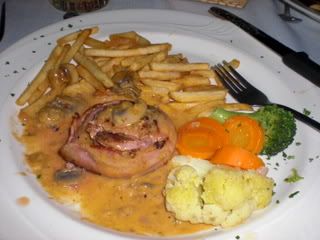 Filet Mingon (this is actually just half a serving! We split it one night!)
Chocolate Mousse! YUM!!
Banana Split! Best I've ever had!
And Nachos with Guac and black beans for lunch!! (I didn't touch the guac tho! Yuck!!)
Can you see now why we packed on some pounds??!! They also had great burgers, pasta, chicken....mmmmm! Wish I was back there right now!
The pool and the beach were also amazing! Pretty much all we did was switch back and forth from laying hammocks on the beach, to lounging at the pool, to lounging on our balcony or porch! With visits to the restaurant in between! It was so relaxing, so amazing!!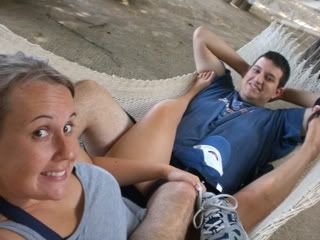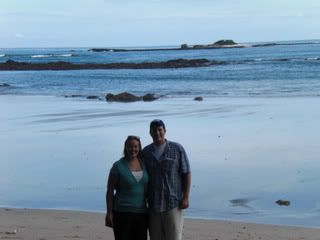 Next up....a post on the amazing, funny wildlife at the hotel!!