Today, I went in for my last little hair trim and to get my hairstyle for the wedding down pat. I've had the same hair stylist for nearly 20 years! She's been with me through bad perms, prom up-dos, friend's weddings, and now my own wedding!
She's pretty fantastic! I can usually take her a picture of what I want, and it comes out exactly how I imagined! Although on occasion, she has told me my hair just won't do what I'm wanting, so I listen and go another direction! I have the finest hair in the world!! But she looooooves fixing it and playing with it! And I won't let anyone else come near it with a pair of scissors. I have had my hair fixed by others when I've had to (ie been out of the country or in another state for weddings!), but I won't let anyone else cut it! Even when I lived in Honduras, I got my hair cut at Christmas and in the summer when I came home! NO ONE else has cut it since she started! And I hope to keep it that way!!
Not everyone may have a trusted, long standing relationship with a hairstylist, but even if you do, I still  highly believe in the importance of a hair trial!  I knew that she'd do a great job, I just wanted to make sure it really was what I wanted and had imagined...........it was!!!
When she put the tiara and veil on my head for the first time after my hair was finished, tears started to come to my eyes because even though I've had my dress on many times and already took bridal portraits, I truly felt like a bride at that moment. I fixed my own hair for bridal portraits (which were very informal- taken by my MOH on the beach!), and I didn't have a veil or tiara at the time.
So......here is a preview....minus the dress!!
Veil in front....
Veil behind shoulders.....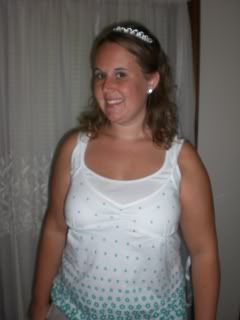 Side view......


Honestly, I don't think the pics do it justice! (and I wish mom had gotten in closer!!But I do love it! And I think this veil will look good with the same material in my dress! The tiara is still TBD (this one was borrowed for hair trial!), and we'll see what I come up with!