Thank you cards have been on my mind a lot lately! (By the way, giving a bride a gift of cute thank you notes- great idea!! Thanks, Mom and Kerri!) So far, I am completely caught up on writing all my thank-you cards, after three showers! I know there are much more to come!! I've always heard about how long it takes and how tedious it can be, but I had no problem at all- except actually finding time to sit and do it! But I know how important it is to make sure that everyone who got you all those spectacular gifts is thoroughly thanked! And quickly!!
Anyways, while reading on
Weddingbee.com
today, I noticed a post about "plantable" thank you cards!-Thank you cards with flower seeds embedded in the paper! What a cool idea! How likely is it that people keep the thank you notes around forever, so what better way to thank them than by something they'll be able to use and look at and enjoy to remind them of your thankfulness!
So I did a bit of research and came up with some great ideas,that aren't too outrageous!
From
Flowerseedpaper.com
........
And look at their adorable favor boxes!! On sale now for $1.64 each!
I don't know about you, but my favor boxes almost always go in the trash after I eat/use whatever goodie is inside! With these you can use the box to put a favor in and then the box is a favor too when they plant it! Instructions are printed on the bottom of the boxes. I couldn't tell if the paper around the boxes is plantable too or not, but it looks like it might be!
Flowerweddingfavors.com
has some great options too, although it seemed to me that their stuff might be a little less modern than the above site- meaning, they look more formal/Victorian looking than modern- but that's just my opinion!
Place cards.......
Bookmarks
Some other sites that offer plantable favors/thank you cards
Love Blooms, Plantable Favors
Botanical Paperworks
And
Swallow Tail Farms
has super cute Daisy's that could be used as favors/name cards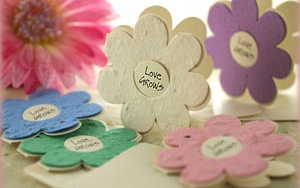 I bet there are some local paper/stationary stores that carry stuff like this! I think my ordering online days are numbered as the wedding approaches quickly! :o) This isn't something I've looked for before, but I bet there are lost more options out there!
What a great idea!