This is what my place looked like and my life FELT like until I got all moved into our new place this weekend......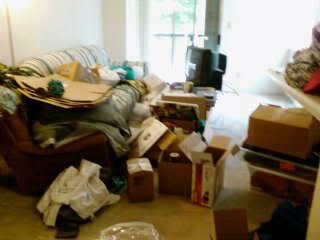 Multiply that by 4 other rooms at my place and every room at our new townhouse and...ugh!!!!
And for awhile, our new place get much better with the influx of my stuff!! But wonderfully, Ray got most of the week off and was able to help! Not wonderful for him because he spent 6 days straight off of work essentially still working! But wonderful for me!! The plant he drives for takes the week off for the 4th, so he still got paid and it didn't count as "vacation time" which he's saved for the wedding/honeymoon! Yippeeee!!
And now....everything is out of my place except what I can't live w/o the next couple weeks and whatever we are getting rid of- like lots of furniture, much of which is spoken for and will head out on Mon. after the wedding!
Although I have LOTS of details to take care of this week, they are mostly little details! I feel a great amount of relief having taken care of our places! Also we'll prob spend Monday after the wedding completely getting out of my apt. since we don't leave for the honeymoon until Tues- due to stupid blackout dates from our free flights my parents earned for us!! It's a good thing though! Saves us over $1000 and we should be more organized before we head off for a week of relaxation in COSTA RICA!!!!!