I've been meaning to post about my Goodwill finds, some of which I've already been displaying!

I found these lovely aqua glass sweeties a few weeks ago and used them in my
Valentine's decor
and now in my
spring decor
........
The bottle was only $1.99 and the little candle holder was $.99. It acutally has a sticker from World Market on the bottom!
I also found this adorable tiny apothecary jar at the beginning of the year that I plopped on a Goodwill candle holder for my
winter decor
, and then put it here for my
spring decor
.....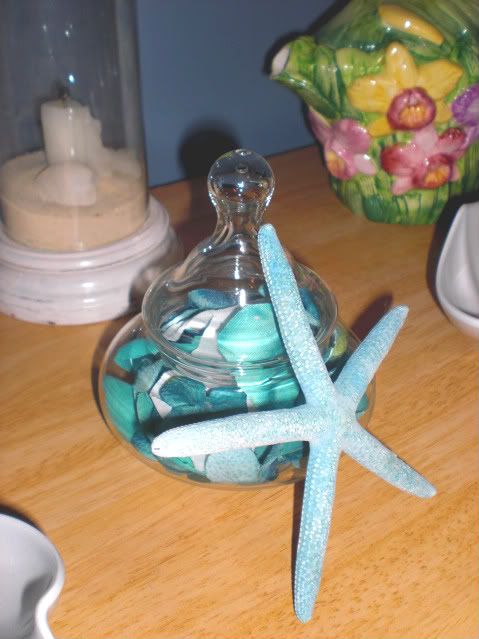 Then yesterday, my heart literally pitter-pattered when I came across this beaaauuuuty!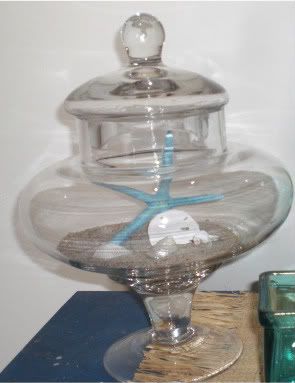 (I got too excited styling it and forgot the before, before picture! This is not how it ended up, you'll see that soon!)
I've been dyiiiing for an apothecary jar! A real one! But didn't want to fork over the dough! I praaaayed it was going to be something I could afford! Now, I'm not really sure what the going rate on a good "deal" for one of these is, but I was thrilled with the $3.99 price tag!
I snatched it up, wrapped my arms around it and carried it through the rest of the store while still searching! It ended up being the only thing I walked out with yesterday, and I was happy as could be!
It is actually much larger and sturdier than it appears here. It seems like a quality piece!
Next up, how I am using this beautiful apothecary jar, and how I'm transforming the small one to match!
I've got a few more Goodwill treasures that I still have to makeover before I show them off!
Linking to
Centsible Saving's Thrifty Thursday
(after all it's HER fault I got into this thrifting, home decor world!)