Nothing too fancy this year! It's our first Valentine's Day with a baby, and things have been crazy in the fam lately (my brother and his fam moving here and company in town), so we planned to stay home to celebrate. Plus, Daddy is usually too worn out in the week from work to do much at night!

I cooked Alfredo Pasta, one of the hubbies favorites and added a side of his favorite bread and peas (since Baby Girl can eat those-blended-now!). Nothing fancy at all because I knew I would be interrupted all day long with the baby, cleaning house, and errands! It didn't all get done! Piles of laundry still await me and just may wait until tomorrow!

I wanted to fancy it up just a *little* and at least make the table look festive! The dining room has already been looking a little Valentiney for the past couple weeks!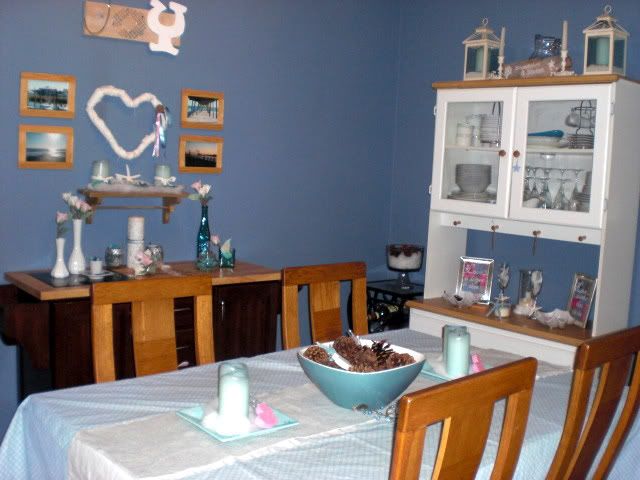 See how I decorated it in my last post
here.
These photos are from my iPhone. Honestly, they look lots better than the ones from my camera since this is a hard spot to photo and the flash on the camera looks so harsh!


Just a few pieces of wedding china, some pasta bowls from Target's dollar spot from back when EVERYTHING was always $1!




And some champagne with a cherry dropped in and a little of the grenadine added to make it festive looking!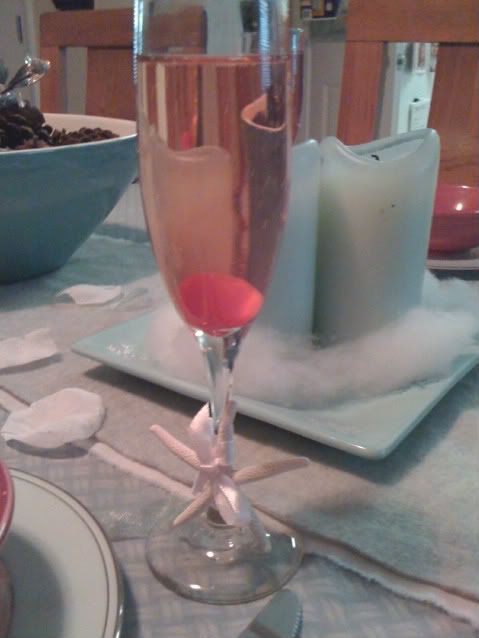 The hearts in the bowls are from Target's current $ spot, and they kind of looked like marshmallows once I put them in there! I tried to convince the hubby that's what they were and pretended to take a bite to fake him out so he would try- yeah, it didn't work! He just looked at me like a weirdo! :)


We were interrupted at least 10 times by Baby Girl! She just wasn't happy anywhere we put her- swing, jumper, highchair, floor- nothing worked! She may have a little cold, and isn't herself poor thing! She napped while I was cooking, and an hour after dinner she was out for good! Guess we should've planned a later dinner!

Off to have myself another glass of the yummy champagne and then go to bed! The laundry can wait until tomorrow! :)