Although I'm currently updating my dining room for V-day, I wanted to share this sign I made to go with my theme of snowflakes and starfish!
I happily left out some of my Christmas decor that was more "wintery" to create a winter tablescape and a few vingettes.
We visited Tybee Island in GA over New Year's and I snagged some pieces of palm trees laying on the ground that looked sort of like driftwood. (I did snag one tiny piece of driftwood that I have plans for!)
I broke in my brand new Silhouette from SANTA for this project! Easy Peasy!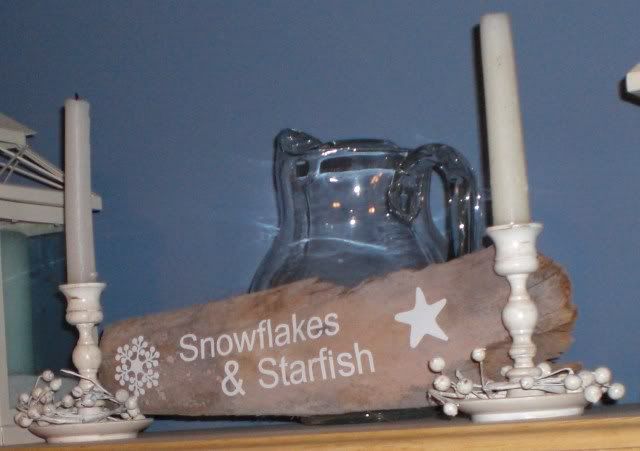 I wanted to figure out how to stencil it on with paint so I could distress it a little, but I haven't gotten that far in figuring out how to use my Silhouette! Anyone know the best way to make a stencil with it?
I displayed it on the top of my hutch:
And here's how it matches the rest of my dining room decor!
Used the same centerpieces as my
Christmas tablescape
- just took out the ornaments and added the piece of fleece on top of the runner to make it a little "cozier!"
The dishes are my wedding china, along with new snowflake bowls from Target Christmas clearance ($4 for all 4, I think?), and the mugs are Walmart clearance- $2.25 for 12!!! I needed a big set of matching mugs over Christmas- found these just a little too late!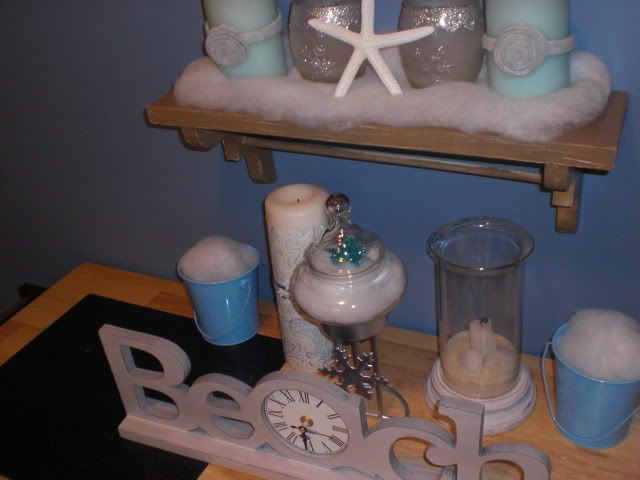 Used several of the same things I used for Christmas on my sideboard too. The "snow" is also an after Christmas clearance find, and I made the rosettes out of fleece to "warm" up the candles too.
I absolutely looooove the look of the snowflakes and starfish together!!
Linking up to: