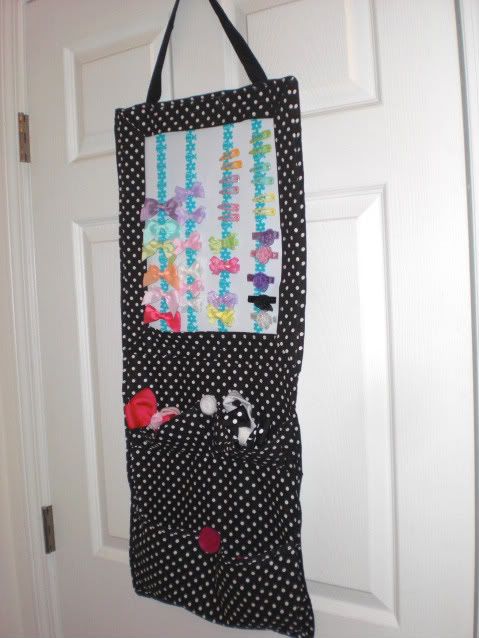 I've been meaning to make Baby Girl a bow holder for quite awhile now, but wasn't sure what I was going to do!
I've got so many projects to do on her room still (and she's almost 7 months old already!!), so I needed something super easy!
My mom bought me this hanging organizer/dry erase board awhile back from Ross' for $1.99.
(Imagine it without the blue ribbon here I forgot that first pic!)
You can't really tell from the picture but it was really cheaply made and wasn't going to work to really write on as a dry erase board. Plus, what does a baby need with one of those! But at under $2, I knew I'd come up with something!
The fabric is cute, but the board is just cardboard around the edges under the fabric and a thin floppy piece of shiny....I don't know what! Super thin papery whiteboard? It's no wonder it ended up on clearance! However the fabric matches her room really well.
I ran across this ladybud/flower cutout ribbon from the $1 bins at Michaels the other day. I bought it before Baby Girl was ever born and knew I'd have a use for it someday!
I literally just cut, and stapled it to the cardboard- which you could reach up under the fabric to get to.
Then I hung up all her bows and clips on the ribbon! Love the way it looks!
(I don't know why the pic makes it look like that 3rd one is crooked!)
Then, the bottom pocket was a little floppy and hung way down, while the top ones are separated. So I pinned it with a leftover rosette from
Baby Girl's wreath
.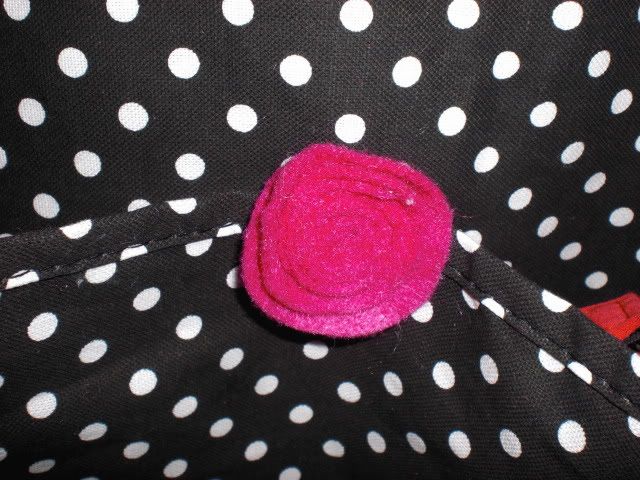 I stuck one on the pockets above, just to match a little even though it didn't need it!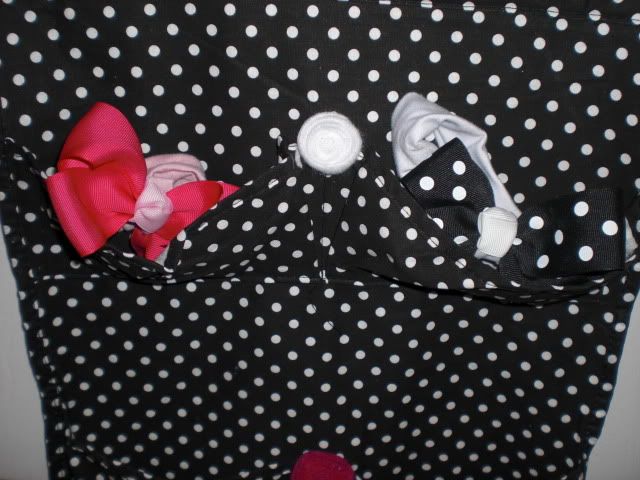 Yep, that headband on the right looks just like the fabric on the organizer!
The top pockets hold her headbands and the bottom has hats! (So teeny you can't really see them!)
I may make some more to put across the top of it just to fancy it up a bit, but this is on the back of her door so no one will really see it unless they go in her room and shut the door!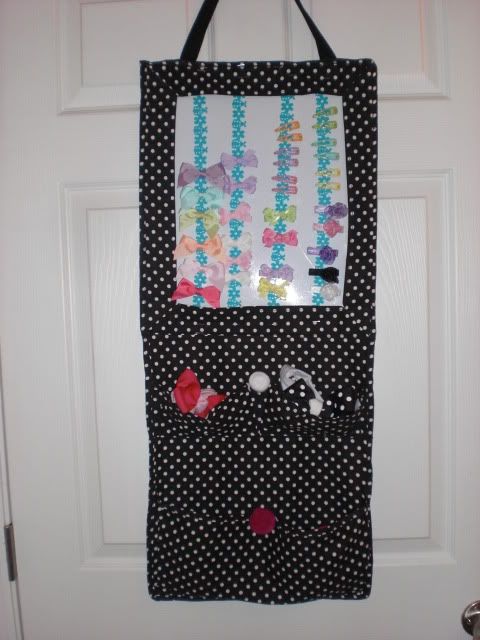 Slooooowly working through my list of Baby Girl Projects! Yep, I should have more done since she's almost 7 months, but understand I didn't start reading decor/crafting blogs until after she was born! Aaaand I took so long deciding on her theme, I didn't even start her room until a month and a half before she came!