I'm going to have a LOT of kids in/at my wedding! It's going to be soooo much fun! Kids are such a huge part of my life that it wouldn't be right, any other way! :o)
I've got 120 students and WISH I could invite them all- but they and their parents would take up most of the space in the church where there is only room for 300!! Yipes! So, I'm inviting my two homeroom classes, and a few kids of teachers, etc.
I've also got 10 kids who will be coming down the aisle/standing (or sitting!) up with us at the altar! Three flower girls, 3 Jr. bridesmaids, 2 ringbearers, and 2 jr groomsmen! Plus 4 other kids who will be passing out programs, bubbles, etc! They're all cousins, neices, nephews and the kids that I nannied for (and continue to stay close to!). I wouldn't want any of them to NOT be a part of things! (At least that will give us space for about 325 in the church with all the kids, wedding party, musicians, pastor, etc!)
Therefore, I've got to come up with a LOT of stuff to keep the kids occupied! :o) At our cake reception- I won't have to worry about it too much! It will be fairly short, and we are having a smallish candy buffet. See my posts on candy ideas!  
Candy Direct
 and
Easter Candy
I have several shell/starfish shaped bowls and large margarita glasses to use, and plan on something like this- with the sand dollars, etc around it to give it a beachy feel!
And I wouldn't do this one....but how beautiful is this! (from
candyfavorites.com
)
I just came across this link to a favors site with a blog on candy buffets! It's got a lot of great info on how to set up your table, where to get stuff, and lots of comments from readers with good ideas!
How sweet it is!
For the kids at the family/wedding party reception, I'm sure we'll take the leftover candies- if there are any!! But I am also planning on putting special stuff just on their table. Different games, toys, activities to keep them happy and out of trouble! I'm sure they'll have lots of fun dancing, eating, and playing in the chocolate fountain too!
Last night, I spent WAY too much time in
Michael's
searching through all the cute stuff they have! They have a good supply of $1 items, where I got some little gifts for bridesmaids and fun stuff for the kids table!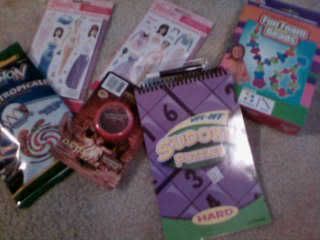 They also have these really cute beach buckets for $1 that I'm going to use on the table to put all the toys, etc. in! They are the perfect color- but they are a dollar, so the handles and shovel are a little cheap! Perfect for the table, but they wouldn't be good if you wanted to carry stuff around in them- or use them for Out of Town Baskets!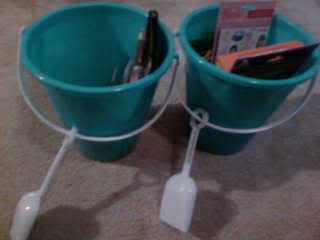 Can't wait to find more cute stuff for the kiddies!! :-) Speaking of kiddies....my third graders are here and ready for their test!!