The Savannah Tea Company

I love it when other blogs do vendor/venue spotlights! I love reading them to gather information on possible locations and to get ideas! I had such a great experience at a location the other day, that I just have to do my own Vendor spotlight!!
On Monday, my mom and I went to have lunch at the
Savannah Tea Company
to check it out for my bridal luncheon the week of my wedding! It's still a few months away, but we wanted to confirm that we'd really want it so that we could hold the date! We'll be taking over the whole place so we needed to make a decision soon. Almost as soon as we walked in and were greeted by Emily, the owner, our decision was already made! We absolutely adored EVERY second inside the tea house!!
It was the perfect time to go, as I'd been REALLY stressed out the day before and that morning, trying to get stuff done that just wasn't very much fun! We had a wonderful relaxing time- probably spending more time than we should've, but we were the only customers there after awhile, and the waitress and owner were just so helpful and nice that it was the kind of place you didn't want to leave!
When I was little, I used to make my mom have tea parties with me ALL the time! We'd have to dress up, put on make-up, and drink lots of the "finest" tea (really just plain old black tea!) from my cute little china cups. I often had a friend or two I could talk into doing it with me, but it was mostly my mom!
As soon as we walked in, we were greeted by the owner, Emily, who showed us around a bit (we told her we were there for lunch but also to check out the place for the bridal luncheon!). She went over the
menu
with us- which has an EXTENSIVE
tea list
!  I was slightly overwhelmed by the list, but Emily gave some great suggestions! I chose Pomegranate Rose hips (been on a pomegranate kick lately so I thought, why not?!). It was wooooonnnnderful! My mom tried the Chocolate Mint tea (sounds odd for tea....but wow!!!), and of course, I stole quite a bit of it!
For just $3.25 you get your own little pot of tea and you get to choose a tea cup off of the shelf.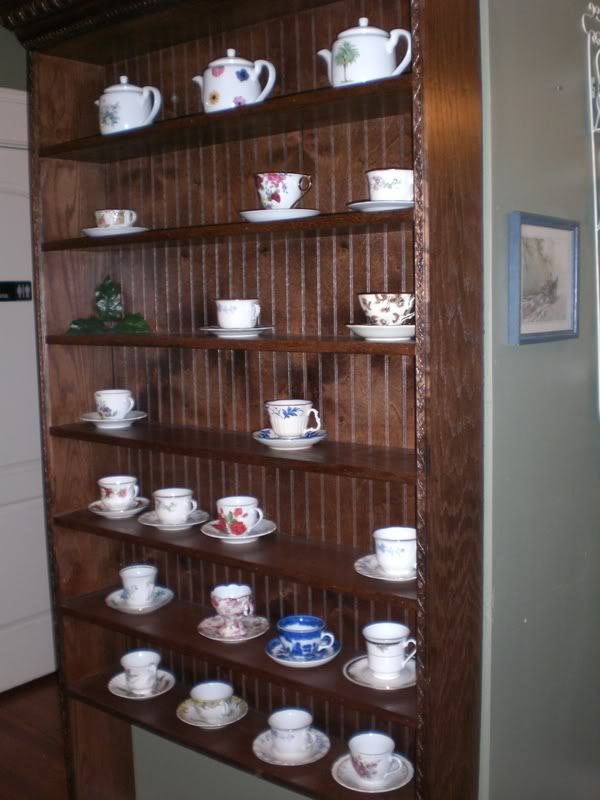 This is the one I chose....It looked very cute and cozy and invited me to sip from it all day long! It reminded me of my childhood as well, since this light pink and green were my favorite colors to wear together for a long time!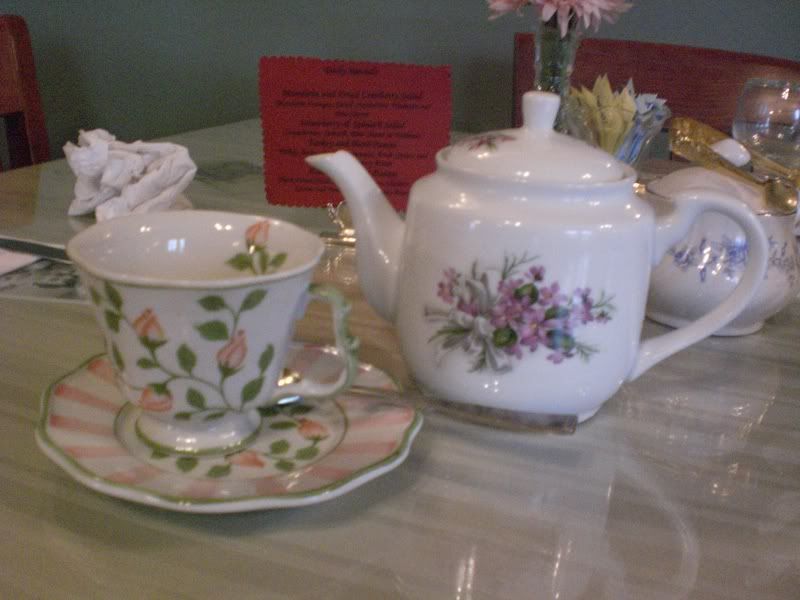 It took us awhile to decide what to eat too, because of all the GREAT choices! They make all of their quiches, soups, muffins, scones, etc. fresh every day! Actually, they don't make scones every day because they are usually part of the special requests for light or full tea reservations. However....we REALLY wanted to try them- it's been ages since I've had a scone and the thought of that and clotted cream along with my tea was just irresistible! They whipped up a couple just for us, which was sooooo nice!
Uh....whooops! This is all that was left by the time I thought...I should take a picture. Mine was long gone, and this is all that was left of my mom's! Both Emily and Casey (our waitress, also WONDERFUL!) raved about the clotted cream and it was all true, so it went FAST!
They were YUMMY! The scones are in the shape of a teapot, and they also do PB&J sandwiches for kids in the shape of teapots- how cute!! They have a great kids lunch (less fussy stuff!) and a great "kid's" room as well.
This small room seats about 10 and is off of the main room (with seats for 20). It will be perfect for all the little flower girl's and junior bridesmaids to play "tea" in with the fancy hats, gloves and boas. I LOVE the poster of Scarlett and Rett! :o)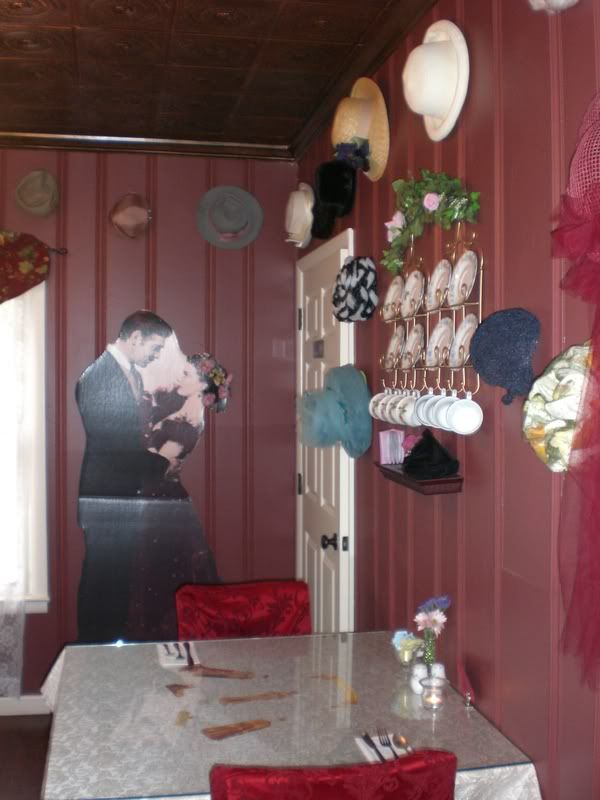 Most of the fun accesories hang on the wall, but there's also a shelf of goodies and a box full of fancy gloves!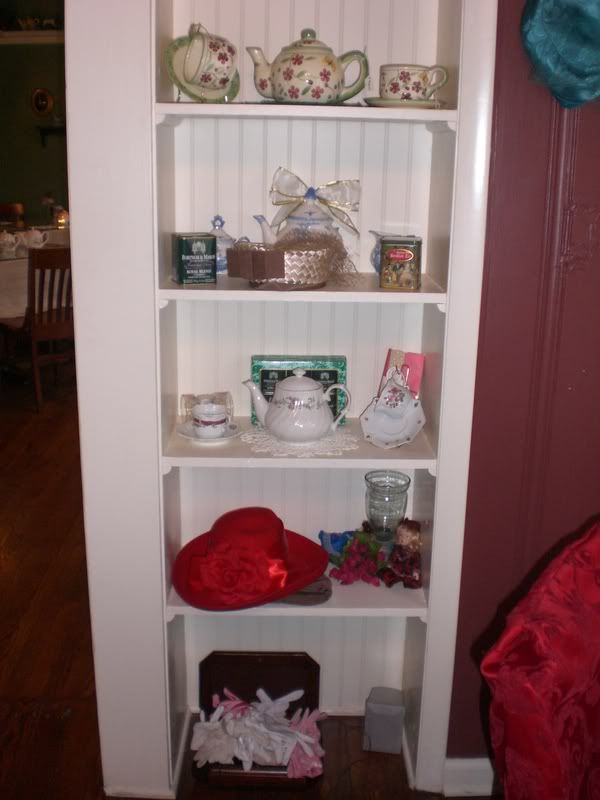 And the cute main room, where the shelf of tea cups is located....
You can sort of see the gift shop- filled with tea pots and tea cups, of course, in the front, along with sample designs of the wedding cakes they also offer! I thought they looked familiar, then after talking with Emily realized I'd seen them at the bridal show at the Frist!
Our lunch order was fantastic as well! Every meal off the menu comes with fruit, muffins, and a frozen cranberry salad! YUM!!!! They have different soups, quiches, and sandwich specials, along with a few regulars. I tried the black forest ham and apricot preserve paninni- fantastic!! Along with a cup of chicken mushroom soup...again great! (you can see the muffin- ate one already- and cranberry salad on either side!)
Mom had the crustless asparagus and mushroom quiche along with vegetable tortellini soup. I, of course, snuck bites of both! Ok, so I asked, I didn't steal!:o)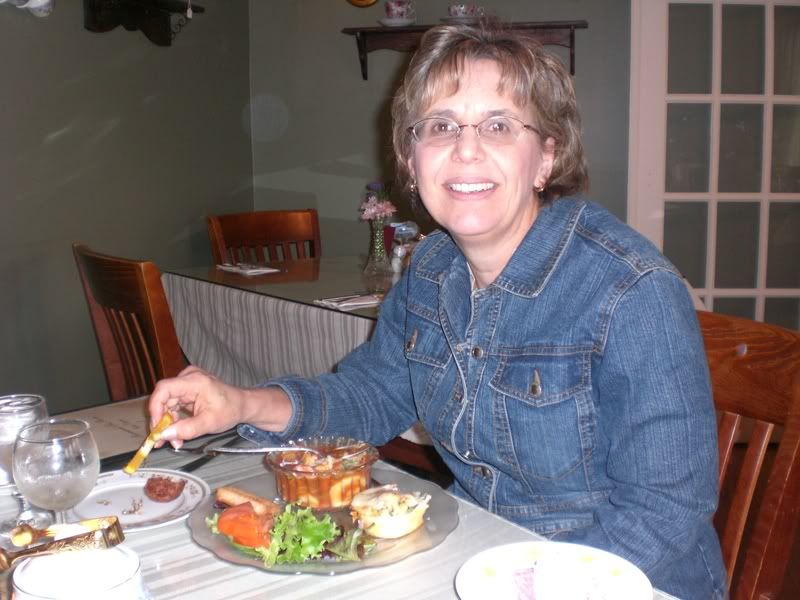 They also do tea tastings, for larger parties. So that you can each get a different pots of tea and share and try them all out! I didn't think I would EVER run out of tea! That's partially why we stayed for so long and partially because it was just so great! I kept thinking I'd be at the bottom of the pot and on my last cup....and nope, there was still another, and another, and another....they'll give it to you to go if you have some left, but we wanted to stay and finish. And umm.....even though my mom got hers later than me (she waited until after we ate our main meal to order!), hers went faster, because I had to have some of hers too!!
I absolutely cannont wait to go back for my bridal luncheon- I might have to go back sooner! I can't say enough good things about the food, the place, and the people! We must've asked Emily AND Casey dozens of questions each and they were both willing to answer them all plus some! They were fantastic! If you live near Nashville, and haven't been- you should!!! I will be going again soon! Anyone want to come?!!
Someone really should bring tea time over here! I know it didn't exactly work the first time, but we're over all that Boston Tea mess right??!! :o)