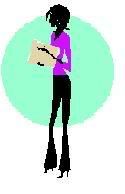 Between the chaos of my spring cleaning, finding a place for the fiance and I to call our new home, sending out Save the Dates, picking out patterns/buying material for flower girl and Jr. bridesmaid dresses, finding rehearsal dinner and bridal luncheon locations, registering for gifts, making up shower invite lists, AND all of my everyday normal life activities (which was already more than enough to handle!), school work, etc.....I've somehow become overwhelmed with papers, business cards, flyers, vendor info,  registry info......AH!!!
I had kind of a breakdown this weekend- it wasn't too bad (if you don't count the yelling at the fiance for no good reason!), but I had to remove myself from everything and everyone for one night and get CRAP DONE!! I am pleased to say that I feel pretty organized now! At least as far as my wedding information goes! Last week I bought some
organizing stuff
and I finally finished putting it to use!! I'm so thrilled that I've gotten rid of a huge bag of unnecessary stuff and kept only the essentials!
I threw away the whole red bag of stuff, everything else fits in my cute
Target
file organizer!
I was so excited, I took a few minutes break to decorate the organizer!
I bought a great Martha Stewart Wedding Planner, but it's just too much for me (even though I do love me some Martha!)! I'm doing pretty well just using the file folder, and this blog is sort of a filing system for all my ideas too!! My agenda is my new best friend too, with all my to-do lists, calendar to kepe track of important dates (my list of important dates has more than tripled!), my addresses and MUCH more! I'd lose my mind if I lost it, I think!
The Knot
 has been a great place for me to organize my guest lists and my mom has been a HUGE help with that! I think she's on it more than me! :o)
So I'm getting organized but keeping it simple! At least for now!
And I feel sooooooooooo much better! I'm SO looking forward to Ray and I going to Chicago this next weekend to visit Bridget! I'll have three full days that I won't have to do a THING related to the wedding!! Just Cubs games, relaxing, and eating Chicago food!! I'm loving all this planning, but it does get overwhelming when you have more things to do than you have time! Thank GOODNESS I'm still over 3 months out! :o)