If you've been reading my blog for any length of time, you already know how in love I am with these!
If you haven't seen this before, this is one of the cupcakes from Cakes by Shara, which won a Martha Stewart cupcake contest!!
Anyways, I've tasted her cupcakes at a few wedding events and parties (including one DIVINE chocolate cupcake from the SATC party!), but still wanted to set up a tasting to choose the three flavors for my cupcakes at my dinner reception. I already knew for SURE that chocolate would be one guaranteed! :o)
These are the cuties that she made up for me!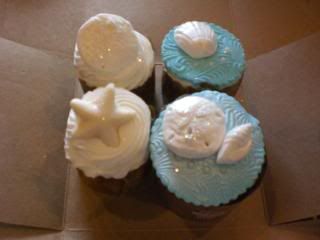 And a close up of the big one so you can see the details of the adorable (and yummy!) shells!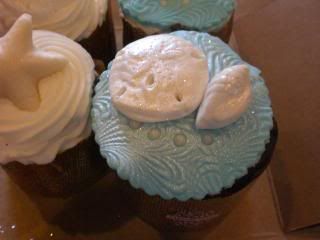 All of the shells and the blue "waves" are made from fondant, and there is icing below the waves too. I've never been a huge fan of fondant, but apparently that was because I'd never tasted fondant done right. This...was amazing...and sparkly! Very yummy!!
The big one is chocolate, the white one front/left is strawberry, white one back/left is orange, and the back blue one is vanilla cake with amaretto icing....YUM!!!
I decided on the chocolate, strawberry and amaretto. I was going to do them all medium size and all with the blue, but after seeing how cute the other ones were (and maybe not everyone would like fondant), I decided to do some of the white too!
And we thought since all the little ones at the wedding might be snagging cupcakes left and right, we'd make minis like these she made for the Relish party. They'll have blue icing with a smaller version of the shell on them.
I'm also getting a cupcake tree similar to this one! But with the center columns in navy!
So we'll have about 60 mini's and 60 medium cupcakes!! I can't wait to see how cute they will look all together!!
If you are at ALL interested in getting cupcakes for your wedding in place of or even along with a cake (I'm having a cake too earlier in the day at a larger cake reception- made by Cake by Dake.)
Here's some other adorable/beautiful cupcakes that Shara has made- all pics from her blog Cakes by Shara Lunn...
These monkeys are too super cute!!
And my fave, other than the one I'm getting! (hmmm, I wonder why I like it??!) If I'd done pink and aqua....guaranteed I'd want this beauty!!!
And a more close-up pic of the custom cupcake stands she makes!

Visit Cakes by Shara now and check out all her amazing cakes too!!