I am officially OFF on vacation- sort of! I'll still be working some, doing some wedding shopping, bridal portraits, making bouquets and favors, BUT I'll be doing it while staying at a house on the beach (Topsail, NC near Wilmington!) and a cabin in the mountains! My BFF and matron of honor and I are camping out for a week at her husband's family's house on the beach, then we're topping it off with a weekend in Gatlinburg with a bunch of girlfriends/bridesmaids! Soooo excited!
I've prepared some posts to show up throughout the week so you don't miss me! :o) But I don't know how likely it is I'll actually be online much while I'm gone! Last year, internet service at the beach was spotty and never lasted for long!
So...I'm off for a week of this.........
Climbing lifeguard towers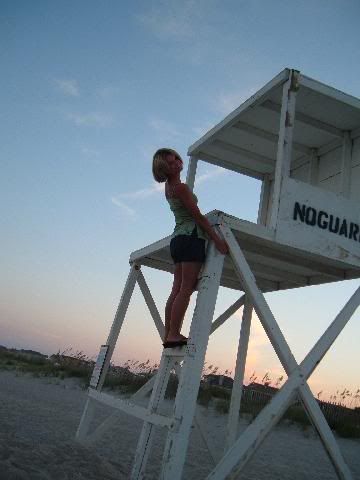 Stalking celebrities we now wish we'd smacked! (Dan from One Tree Hill- lost my pic!)
and
Stalking celebrities we'd like to make out with!
Eating at our fave restaurants
Taking the mandatory photos beneath the Dawson's Creek pier

And praying this doesn't happen again

Then we'll head to our fave mountains, for shopping, visiting wineries and hanging out with the girls!