Yesterday, my grams, aunt, and cousin threw me a shower! It was soooooo much fun, with a lot of old friends I hadn't seen in a long time! All of the married ladies shared funny stories from their dating or marriage life and it had us rolling with laughter!! Much more fun than any shower games I've ever played!! :o)
This, though, was my absolute favorite gift that I received. It was one I didn't register for, because Grams told me not to! However, I'd completely forgotten she was getting it and didn't know what it was going to be when I was opening her gift!!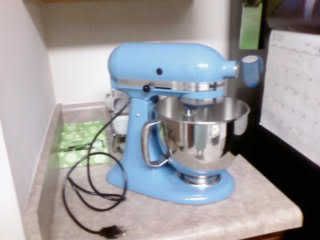 I've been dreaming of having one of these for years!! My mom never had one (she loves to cook, but isn't really a "baker"), but I've used one often - my aunt's and Chaundra's. I'm soooooooo excited and can't WAIT to use it!! If only I had the time! I might have to make some time to use this beautiful appliance!! And of course, it's blue!! Wouldn't have it any other color!!