Awhile ago, Chaundra, my good friend, seamstress, and mother of my fave kids in the world (other than my nieces/nephews!) helped me pick out material for the junior bridesmaids and flower girls. Two of her girls-Lauren and Olivia, and my niece Brittany are junior bridesmaids, and her youngest Gabriella and my niece Caylie and Ray's niece Kaylee (yep, same name!) are flower girls. That's a lot of kids to say in one sentence!! Yes, that means 3 jr. bridesmaids and 3 flower girls. It's a lot, but there is no way I'd leave a single one of them out!!
On Sunday, two of my bridesmaids and I went over to Chaundra's to get their dresses altered. Yes, not only is Chaundra making the 6 little girls dresses, she's also altering 3 of my BM's dresses and my dress- she is that fabulous!!  Obviously, because that morning she whipped up this dress for Olivia!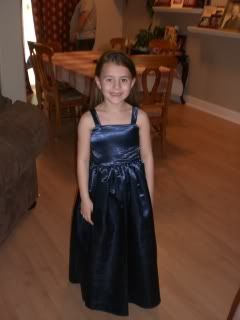 Doesn't Olivia look like a little princess!! It will be a little shorter, so the girls can dance the night away without tripping all over themselves, and it will have a sash around it- a little thinner than this one that Chaundra just threw around Olivia to get the effect!
It will be exact opposite colors of the BM dresses!
The flower girls will have the same dresses in white with navy sashes!
I can't wait to see all my beautiful ladies all dressed up!! ;o)