Last week, my mom and I did lots of searching for suits for the guys in the wedding! We decided to go with buying them, since renting can get close to the cost of buying them! Especially since we are going with navy!
The best deals that my mom found were at
J.C. Penney's
. I rarely shop there, but I have heard other people say that they've found good deals on suits. She found a manager that is working with us, to get us the best, discounted price! And because we're buying at least 8, he's giving us a really good deal!
Here's some pics of myself and my good looking men! Please excuse the fact that I didn't fix my hair or put on make-up! I knew I was going to be a bridesmaid "stand-in", but didn't think about fixing myself up! :o) And Ray was complaining that he didn't fix his hair either, and you'll notice his brown flip flops in a few pics- don't worry, he's not wearing those!! And the BM's aren't going barefoot like I am! :o) They will look much prettier!
 Here's myself with my handsome fiance- who reverted to his old picture taking ways with a goofy face! But hey, remember, these pics are about the clothes!! :o)
I absolutely love the tie that we picked out for him-- from
Dillard's
. It cost a bit, but the stripes in it match the dress and the groomsmen ties perfectly (see groomsman tie below on my dad!), and we're going to keep looking for it to go on sale!
Here's the Father of the Bride joining us.... He's wearing one of the ties we got for the groomsmen and possibly for him too, from
Ross
. It is a light teal blue with some faint paisley outlines.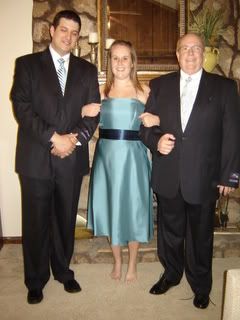 Tie up close on Father of the Bride.....
We had the guys in black shoes, but tried them out with brown as well.....ummmmm....we'll go with black!!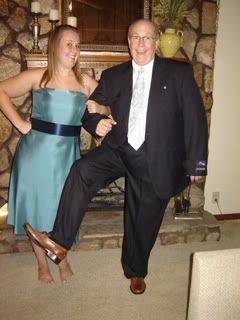 And the three of us go for a stroll in the sun...........
We're pretty set on these suits, just need to gather up the groomsmen and his dad's sizes then off we'll go to purchase them all! We might change his dad and my dad's ties, but the groom is set and so are the groomsmen!  They also go lovely with my flowers as well, which I forgot to bring to the "photo-shoot" but here's a pic to remind you!
I can't wait to see it all put together in the end!!!