I got back from the beach and mountains yesterday.....and I'm exhausted, but happy and had lots of fun!! And got lots of stuff done!! (More on that when I recover enough to write more!! :o) )
Here's some pics from my lovely shower last night!!
My lovely sis-in-law, Carla, who was responsible for it all!
The adorable cookie cake her mom made me!!
 So adorable!!!!!!
I made  a Mexican Pizza.....sooo yummy but I did have to chop up yucky tomatoes (my least fave food!)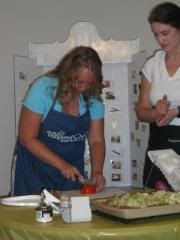 I won this bridal shower at a bridal fair at Opry Mills- the consultant provided the food, a bridal board (behind us) with pictures of everything I registered for, so people could pull them off and buy them. And she did all the invites, etc. It was a lot of fun! All the time, she thought she knew me and while I thought she did look familiar, I couldn't place her! Until her daughter showed up at the shower and recognized me as her Spanish teacher 4 years ago! What a small world! ;o)
Chopping onions with their wonderful mandolin
Wonderful co-workers who came to join in the fun!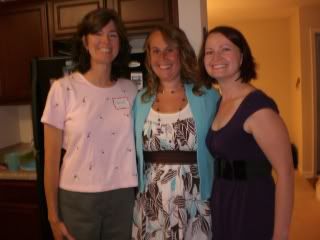 Can't wait to use all the fun stuff I got!!! And I'm sooooo thankful for wonderful friends and family supporting me again!!! :o)