Ohhhhhh, I wish I could share pics of how beeeeaaaauuuuuttttiiiiifuuuuul my dress has turned out! However, there's always the chance that the fiance with take a peek at it, so no taking chances here! :o) He usually doesn't read my blog, but he has on occasion!
I purchased my dress from a consignment store, which I promise I will share about at a later date! It was super cheap, and a beautiful dress, but to me, it was just a little ho-hum! I've ALWAYS wanted a dress with a little color- even before that became popular recently!! Of course, the color of choice has always been blue!
Yesterday, I took the dress out to the Lasaters, and had Chaundra Lasater help me re-do it! She is amazing! If you haven't heard me rave about her yet- you will now! :o) She's altering 3 BM dresses and making 3 flower girl dresses and 3 junior bridesmaid dresses.
Oh by the way.....here is my beautiful model Olivia again- showing off her now finished junior bridesmaid dress!
and the back... 
Back to my dress....I can't even tell you how many times I put it on and took it off yesterday! But it was worth the finished product! She took the hem way up, then used some of that material to make straps for the dress (it looked fine without, but I feel less naked!!) And we added a fun blue element, which I will also keep a surprise!!
It was a lot of fun! Well for me at least! Probably not for Chaundra! In between trying the dress on and checking to make sure I liked all she was doing, I got to help bake a cake for the birthday girl/flower girl Gabby, and got to play and color a lot with all 3 of her girls (2 of my jr. BMs and 1 flower girl!) I also had to pretend that I was Paula Abdul quite a few times, and the girls were my kids or servants (when did Paula have kids! haha!)
Birthday girl....
We also took lots of silly pics and made "gymnastic" videos which were really cute and funny! You can see them on my myspace soon! :o)
Olivia can do more than model! She's a pretty good gymnast too! Look closely and you'll see Gabs in the mirror doing her own headstand! (and my arm!!)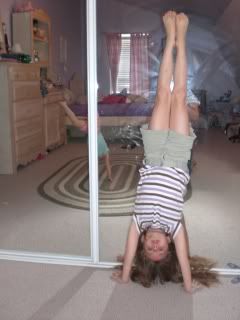 Plus, along with all the fun, practically the whole family joined in on helping with my dress. The girls fetched pins, scissors, etc for their mom, and Aaron even ripped apart the hem of the dress after Chaundra chopped it off, so she could reuse the stuff at the bottom that helps hold the hem down! What a great fam!