I'm continuing our week of Fall and Christmas signs…..
(as of today, we are two monthss from Christmas!!)
Yesterday I showed off my
Joy and Noel Letter Blocks
, and today I'm showing you my Joy, Peace, and Noel blocks.
These are great to place on shelves, or hang up in a grouping…..
Red….
Pine green….
Navy Blue….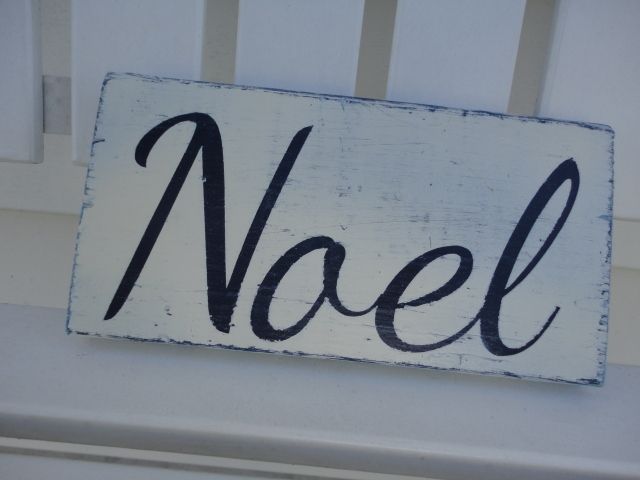 I'm personally fond of the last one since its super pretty distressed, and it's blue! The above groups of three have sold well, and they everyone that has bought them has bought all three!
I made all of these
using this method
.
Onto some more Christmas ideas tomorrow….
To see the rest of my 31 days of signs posts, check out these links,
Intro
How to make signs:
Day 1- Where to find wood
Day 2- Gathering your supplies
Day 3- Making signs using your own stencils
Day 4- Making signs using pre-made stencils
Day 5- Making signs with stickers
Day 6- Making signs free-handed
Day 7- Making signs with stamps
Day 8- Making signs with transfers
Day 9- Print a sign
Day 10- Making signs with cutouts
Day 11- Recap- 8+ ways to make signs
Beach Weekend:
Day 12- Beach Subway Art
Day 13- All You Need is Love and the Beach
Day 14 - More Beach Signs
Day 15- Small Beach Signs
Various Signs:
Day 16- Girlie Signs
Day 17- Dr. Suess Inspired Signs
Day 18 - Letter Blocks
Day 19 – Bushel and a Peck Signs
Day 20- You are my Sunshine Signs
Fall and Christmas Signs:
Day 21 - Fall Signs Part 1
Day 22 - Fall Signs Part 2
Day 23- Give Thanks Signs
Day 24- Christmas Letter Blocks
I sometimes link up to these lovely ladies' parties: