I love these North Pole signs! A little bit of Christmas whimsy, without being too cheesy!
I adore how the aqua shows up under this red sign, and I barely did any distressing to get it!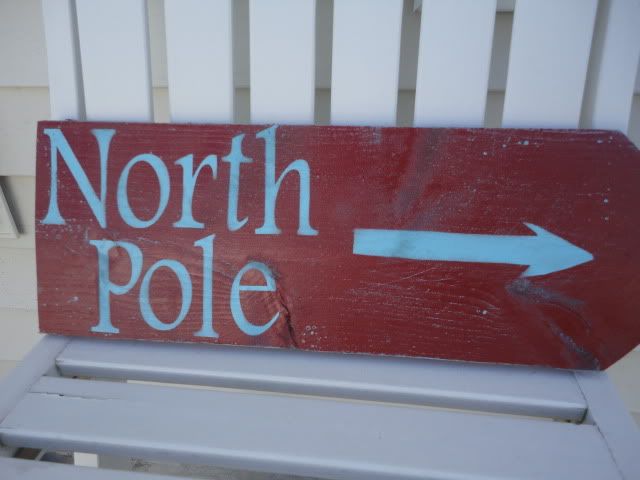 Funny story about this last one…I picked this piece of wood up off the side of the road! I loved it's shape and thought it would be perfect for a sign pointing somewhere!
I made all of these
using this method
.
To see the rest of my 31 days of signs posts, check out these links,
Intro
How to make signs:
Day 1- Where to find wood
Day 2- Gathering your supplies
Day 3- Making signs using your own stencils
Day 4- Making signs using pre-made stencils
Day 5- Making signs with stickers
Day 6- Making signs free-handed
Day 7- Making signs with stamps
Day 8- Making signs with transfers
Day 9- Print a sign
Day 10- Making signs with cutouts
Day 11- Recap- 8+ ways to make signs
Beach Weekend:
Day 12- Beach Subway Art
Day 13- All You Need is Love and the Beach
Day 14 - More Beach Signs
Day 15- Small Beach Signs
Various Signs:
Day 16- Girlie Signs
Day 17- Dr. Suess Inspired Signs
Day 18 - Letter Blocks
Day 19 – Bushel and a Peck Signs
Day 20- You are my Sunshine Signs
Fall and Christmas Signs:
Day 21 - Fall Signs Part 1
Day 22 - Fall Signs Part 2
Day 23- Give Thanks Signs
Day 24- Christmas Letter Blocks
Day 25- Joy Peace and Noel Blocks
Day 26- Merry Christmas Signs
Day 27- Christmas Subway Art Signs
I sometimes link up to these lovely ladies' parties: