Now that you've got your wood selected, what else do you need?
Paint
My stash of oops paints!
·
Buy oops paint from home improvement stores, usually near the back of the paint counter. They are paints that the color wasn't made correctly so customers didn't buy them and they are heavily discounted so they'll move out! Sample pots are $.50- $1.50, quarts are usually $3 or less, and gallons are usually under $5
·
You could use oil based paints, but they don't clean up easily so I like to stick to latex, plus you'll find latex in oops paints more often!
·
If you need a specific color, a sample pot for about $3 will last for a long time for sign-making.
My spray paint stash
·
Don't bother with the cheapo $.99 cans! You'll end up using a lot more, and they don't work that well! Trust me, I've tried them out! Especially the white is bad….terrible coverage.
The black from Walmart is horrible, but the black $.99 cans from Home Depot are ok.
If you are doing something small, they may work for you, but I really do recommend going for better quality.
·
Rustoleum is my FAVORITE (from Home Depot).
I've never had a problem with drips, coverage, etc! It's the brand I usually use, but I do hear good things about Krylon and Valspar- especially Krylon.
·
It's your fastest option. You are limited in color choices with spray paint, but painting signs goes SOOO quickly! If I'm doing several in the same colors, I'll do them all at once!
·
If you use contrasting colors and don't go too heavy on the top layer, you can easily distress to see the color below.
·
Your best option for purchasing these is at Home Improvement stores. Even with coupons, they are usually more expensive at a craft store like Hobby Lobby or Michael's.
·
Even though spray paint is probably my most expensive option I use for paint, it's totally worth it when I can blast through several projects at once. I use spray paint for way more than just signs!
·
Always use precautions, paint in a well-ventilated area and use a mask. Also read the can to be aware of the best weather conditions for spray painting! They are for a reason! This is why it's good to have other painting options because when it's too hot or too cold, spray paint can look awful! It's also nice to have other options when you are pregnant, like I just was! Even with a mask it's not a good idea!
·
Find these small bottles easily at craft stores or places like Walmart.
·
Look for bottles on clearance, on sale, or use a craft store coupon.
They are usually pretty cheap to begin with, but cheaper can't hurt, right?!
·
These are a great option when you only need a small amount of a specific color because some brands are around $1!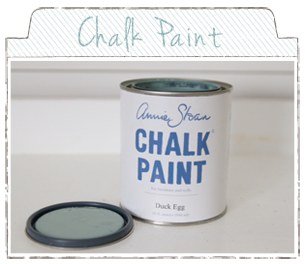 Source - you can buy it here too!
4.

Chalk paint or milk paint
·
If you aren't much of a home décor blog reader, these paints might be new to you.
If you've been around this blog circle for even a little while, I'm sure you know all about it and can skip my descriptions!
·
Chalk paint-
Annie Sloan Chalk Paint
,
CeCeCaldwell's Chalk & Clay Paint
are the biggest kids on the block, and there is also
Masion Blanche
a new one I don't know much about but hope to soon. It's mostly used for furniture, but it distresses so easily that it's perfect for signs! There's no prep work involved (which is why it's so great for furniture, other than sanding splintery edges or cleaning up old wood, there's not usually much prep work for signs.)
·
There are also DIY versions which I've never tested on furniture, but have used for signs and I love this post which
compares Annie Sloan and DIY
. I've also used CeCe's for a few small projects and am about to use it for my dining room table.
·
Milk paint-
Miss Mustard Seed
can tell you all you need to know about milk paint, and she's
made some signs with it. It's a powder based paint that you mix with water.
She has just come out with her own line and I'm hoping to get my hands on a sample soon. It's supposed to distress really well too and not require much prep. Again mostly designed for furniture but also great for signs.
·
Use one of the above options for lettering or other designs, and use a stain before or after.
·
I've used several oops stains for different signs that turned out great. I especially like it on fence post signs.
·
Use a pickling stain (for a white color)
·
I'm including these under paints because they are found in the same aisles! If you want a time or weather worn sign and don't mind it getting any abuse (if it will at all, most signs should be out of the way!), you can seal it with many different options.
·
Polyurethane- this can be found in a quart or in a spray can.
I do seal my signs that I sell and I use this most often in spray form, because it's quick and easy.
It will most likely YELLOW WHITE PAINT!
I learned that the hard way. Supposedly if you do several very, very thin coats won't, but I haven't tried it ever since I found some of my signs yellowed, fortunately I often used white as the lettering color and they didn't get hit to hard.
·
Polycrylics- these shouldn't yellow your white paint and come in spray and quarts. I've done a lot of research on the two and apparently it can yellow sometimes but shouldn't if you get a sealant that is water-based and does not contain "urethanes."
These will vary on the type of sign you are making, and this list is just somewhere for you to start. I'll update the post on ways to make signs next to the different supplies after we go over them this week!
·
A craft cutter- Cricut, Silhouette machine etc.
·
Printer- Ink jet for transfer projects, laser for tracing or making your own stencils is fine
·

Exacto
knife to cut your own stencils if you don't have a cutter
·
Pencil for pencil transfers, sharpie to free hand or fill in letters.
·
Carbon paper and tracing utensil
·

T
wine, ribbon, drill to make holes for threaded hanging, or sawtooth hangers
·
Paint brushes – cheap foam brushes work well and if you wash them immediately, you can
often use them again. For some techniques you may want to invest in good brushes like a
Purdy brush (they don't lose their bristles!)
·
Sand paper- low grit (60, 80) for sanding splintery edges and smoothing a really rough
surface; high grit (180 +) for distressing. I don't think you need a sander just for signs.
It
can make things go faster, but you can also sand too quickly and sand too much!
·
Newspaper, drop cloth, old sheets- something to cover your work surface
·
Paper cups, paper plates- I use these to mix my pants and to create a palate of blended
colors.
·
Spray adhesive, mod podge, painter's tape and/or glue stick to hold stencils in place
Got any other supplies you use to make signs? Leave a comment! I'll be adding in some more supplies as we go over methods throughout the week!
Check out all my 31 days of signs posts so far!