I love my fiance more than anything in the world- obviously, or I wouldn't marry him!!!
I'm learning more and more though, just HOW DIFFERENT men and women are as we are starting to move his and my things into our new place and are "decorating" together! I use that term lightly on his part!!
We got this great bathroom shelf/cabinet thing from my parents which they were going to sell in the yard sale, unless we wanted it. Well, with all the
$$ I'm saving lately
on through
The Grocery Game
,
Coupon mom
, etc., I've gotten tons of free or almost free toiletries (if you ever need toothpaste, toothbrushes, deodorant or razors when you come to our place, feel free to take some!!)
So Ray brings it home this past weekend, and I come over later to look at it, and can't find it! Why can't I find it?  Because it is in the downstairs 1/2 bath, sitting on the floor!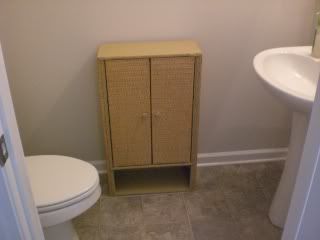 This is where he assumed it was going, since we needed a place to put toilet paper, as there is zero storage in that bathroom (as is true with a lot of 1/2 baths!) I giggled thinking he's joking, then realized he's dead serious...even about how it is sitting on the floor!! So I make a statement about how it has to hang up because it has shelves, and he proceeds to sit on the toilet to show me that he doesn't bump into it on the floor there and it looks fine! He can even open it from there to get more TP!
Yes, men and women have different ideas of what "fine" looks like. To me, his "fine" looks silly! But yes, we do need toilet paper storage down there- I'm thinking a basket or some little shelves to tuck away beside the back of the toilet. Not a cabinet that someone can browse while they're taking care of business!
This is where I wanted it to go!!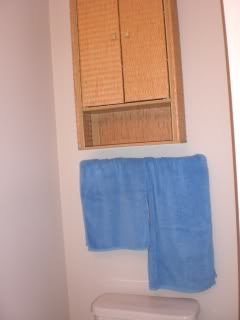 (Ignore the fact that it doesn't match the towels-and that they aren't straight! it will match once we get my bathroom stuff in the guest bath!)
The toilet is tucked away in a corner, that creates the perfect space for these kinds of shelves. No chance you'll hit your head, or bump into them with your legs while in there!! And I'll have a great place to store all of our extras other than in a box under the sink!! 
I love the bathrooms in our new place, and there is great under the sink storage, but no medicine cabinets or linen closets- so this was much needed!!
He did however, get it hung up perfectly and I only had to ask once!!! I do love him so!!!! :o)