I think that I have worked more the past week, than I've worked all year (esp. after a year with TWO crippling injuries!)  Even though it was insane, I'm happy I survived it!!
What I survived-
     -Moving the fiance into our new place (lost count of how many trips up/down multiple sets of stairs!
     -Cleaning fiance's old apartment from top to bottom, hauling off carloads of trash!
     -Unpacking/organizing everything at his new place
     -Many trips to goodwill
     -Carting all of our yard sale stuff to my parent's house
     -Unpacking/sorting/pricing all yard sale stuff
     -Hurting my tailbone sitting on my parents garage steps all day!
     -Repacking all the stuff that didn't sell and hauling it off to goodwill (3 carloads and still some left over!)
     -Running wedding errands even though exhausted from yard sale!
     -Entertaining company that arrived right after the yard sale!
    -My biggest school project ever- Latin American Marketplace- which lasted over 8 days!! (if'd known I'd be planning a wedding, never would've scheduled this!)
     -Finding/designing/buying supplies/designating parents to buy shirts for 27, 5th graders field day t-shirts (and still have to find the time today to make my own!!)
    -Preparing graduation certificates for the 6, 5th graders that I've been assigned (still have to prepare what I will say about them when I give them their papers!)
    -Researching the guy's suits/going to the store to have fiance and groomsman try them on and pick out color!
    -Creating my bridal bouquet
    -Picking out bridesmaid's shoes
    -Managing to live on less than 6 hrs of sleep a night ALL week long!
And let's not forget--- MY HARD DRIVE CRASHING!!!! (still workin on fiance's computer!)
I'm sure there is lots I'm forgetting, but do you really want to hear anymore?? I don't!
Even though the yard sale part was exhausting- especially since it was at the end of the long week of craziness- it helped us score some much needed extra cash, and helped us get rid of lots of stuff we didn't need anymore, anyways!
Here's what we started with....this is the night before when we'd organized a lot of it already! (the piles of boxes are what we pulled outside the next day!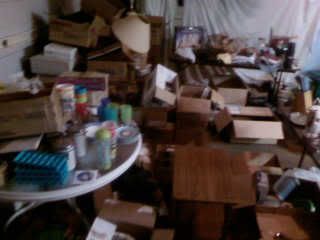 Wait that's only half....
And believe me, there's even more that you can't see from these two pics!
Then, in less than 24 hrs, the garage looked like this after it was all over!!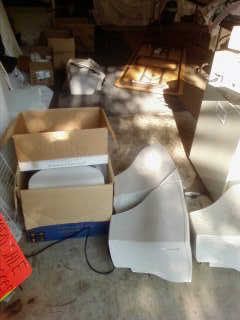 Only a few boxes remain!!
At least at the end of a long, hard week, I can look back and see that we did accomplish a lot! Even though my body hurts and is still oh so tired (even after sleeping in some the last 2 days!), I at least have a sense of great accomplishment!
This is my LAST week of classes, and it will be tiring, but easy! I've got field day tomorrow (gotta make my t-shirt!!!), then a teacher work day, then two days of 5th grade honor chapel, parties, and my last few classes!! Yippppeeeee!!!
Here's to accomplishing lots more this week and getting some time to rest afterwards!!