I'm not a huge dress person. Don't get me wrong- I love them! I just don't seem to have enough "occasions" to wear a dress! I have a few in my closet that have never even been worn- but the price was just too good to pass up!
I always tell myself that I should just wear dresses for the heck of it sometimes! And maybe I'll start doing that! One of the biggest reasons I haven't worn dresses much the past year is because I was on crutches twice- and, well.....that's just not attractive! (I avoided them completely, except for maid of honor duties- yes, on crutches! ugh!!)
But now, I have plenty of occasions for wearing a dress!!! Especially one BIG day that I'll be wearing a secret dress that I definitely cannot blog about! But with plenty of showers and parties coming up (first shower on Sunday and a
BIG party
on Friday!), I have plenty of reasons to wear a cute dress!
After scouring the net for dresses late last night, I decided to go hit up the mall today after our teacher luncheon and score some dresses! I wasn't too sure if I'd get lucky, but I found three, so I have some options.......
This was my first find at
New York and Company
- It was on a 50% off rack, so I thought it was going to be about $25- but it rang up $9.99! Can't beat that!! It was the only one left in the store! It's a bit big in the front, but I think it will work.....thinking of wearing this one on Sunday- although I think they're using lots of navy in the decorations at my bridal tea- is that a big deal? Should the bride match?? (Is that a dumb question? :o) )
I love the summery look and the tiny little iridescent threads here and there! I found a great necklace at
B.Moss
to match! (I always find stuff from there and NYC that match each other!)
These next two are from
Charlotte Russe
. I surprisingly found several dresses that I like there- one looked great- but a little too great! I looked like a hooker! (No there isn't a picture of that, Ray! Oh and insert my cuz, Ashley's comment here of- told you they sell hooker clothes!)
This one is simple and adorable! Possibility for Friday night- and could be used for another shower/party! 
This next one is my fave and actually looks better on me than on the hanger! The only prob is that it doesn't have much of a liner, and I'm afraid you might be able to see all that is underneath! The black one has enough support that I don't need a bra....this one would be horrible without one- but I hate strapless bras! They just don't give me enough oomph!! :o)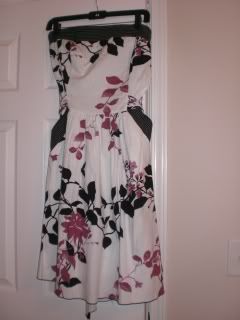 Any ideas of what I could wear under this one? Maybe a slip with a built in bra? Although I hate to pay more for something underneath the dress than the dress itself!!
Tell me what you think.....and I can't wait to try them out!! :o)