After realizing that I have at least 7 dress appropriate occasions this summer, I decided I needed to go on a hunt for MORE dresses! :o)
This summer's "dress" occasions-
1. SATC Party
2. School shower
3. Beach vacation!
4. Pampered chef shower
5. Shower thrown by aunt/grandma/cousin
6. Bachelorette Party
7. Bridal Luncheon
8. Rehearsal dinner
9. Day after Brunch (but prob will go casual that day!)
10. Honeymoon!!
11. Plus even more parties!!
So, you see, I probably NEEDED to buy 7 dresses this week- add those to the few I have in my closet, and I'm covered!! Yeah, right? You know I'll still be shopping!
After hitting up several stores with no luck, I hit the big time at Ross! I'm betting that other stores like it- T.J. Maxx, Marshall's, etc have good stuff right now too.  I heard on the news the other day that a LOT of stores are already discounting/clearancing their summer stuff, because people just aren't paying full price any more with prices of everything else going up! Well, there's one good thing about the price of gas!!
I spent right at $100 on 4 dresses, a Roxy purse, and two bamboo pieces for the kitchen (Ross has some of the cutest/cheap kitchen stuff!).
So here are my 4 new dresses...up for criticism, compliments, etc! I'm down to two for tonight and probably still the same for Sunday's shower!
This one is a tad bit big, but I think if I make new button holes on the straps, it'll fit better! Super cute though! I always have a problem with straps being too long on tanks and dresses because I have a short torso!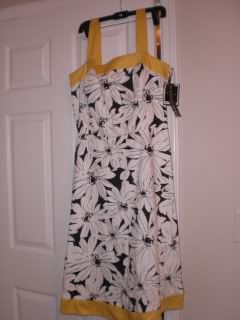 This one is really fun and silky, with a tulle lining underneath- the spots are champagne and off-white and it ties behind the neck. You can see from the pic that the seam of the tulle is partly coming off! Whoops! :o) But I got them to give me an extra 30% off because of that, so the dress was about $10! I figure I can just fix it or rip it off the rest of the way-either way, it will still be cute! I might consider wearing it tonight, but don't think I'll get it fixed in time!
This one is also super cute and fun! The straps do bug me a bit- I have to majorly tighten them, but it's got some of my fave colors- and more tulle! :o)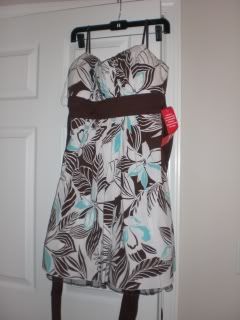 And lastly, my absolute FAVE! This one is a big contender for tonight! All I have to do is figure out a way to make it a little less boobie-licious! Some of us are just too blessed in that department! But it is soft, flirty, totally cute- and best of all, I can wear a real bra with it!! :o) It's a little hard to see the details, but there's lots of little yellow/white flower details.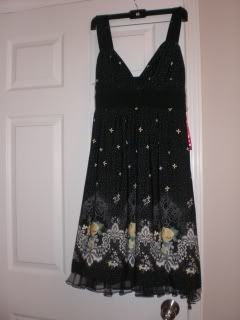 It's down to either this one or #2 from yesterday's blog for tonight's party....as of right now I'm sticking with #1 from yesterday's for the shower
I'm sooooo excited about all of these occasions and the fun stuff I now have to wear!! AND I did it without breaking the back! I've probably spent around $125 for SEVEN dresses! That's crazy cheap! :o) I need to be on that show- The Look for Less! :o)
I'm also soooooo excited that while I've been writing, I've also been on the phone with Dell-finally got my computer to connect and STAY on the internet at my fiance's house, and I'm back up and running!! Yippppeeeee!! I am so close to getting all my final school work done now (have to prepare all my years of files for the next teacher since I'm not returning!!)
I finally got a Dell customer service guy who knows what he's doing!! Monti is my new BFF because he just did wonders with my computer. And he was nice, and I understood him!!! I love that you can go online and connect with them and they can see your computer and do everything for you! Freakin amazin! By the way, I sooooo highly suggest getting an extended warranty! I've crashed my hard drive TWICE now, and without that warranty, I'd be out hundred's of dollars or would've had to simply start over with new computers every time!
Yay! I've missed my baby! Time to wrap up this blog because I've gotta go play with my newly fixed baby! :o)