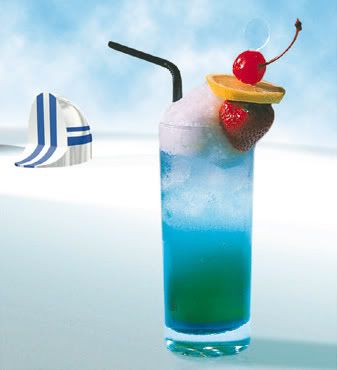 (from patriciapiccinini.net)
I was reading through one of Gram's
Quick and Simple
magazines she'd given me awhile back but had misplaced and never read- when I noticed a great article on "Bubblies, punches, mocktails and more...." Technically, they're New Year's drinks since it's from their new year's edition (yeah, I'm behind!), but they could work great as signature drinks!I searched hard to find them on the website and no luck....so, I copied this from their December 25, 2007 issue..........
1. Cherry Classic

Crush up some ice and place in margarita glass. Drizzle in a few teaspoons of grenadine or the juice from a jar of maraschino cherries. Slowly pour in seltzer (look for vanilla  seltzer to create a cherry-vanilla flavor), and let the liquids combine into a pretty shade of pink. Top it off with a marachino cherry, or skewer a few on a swizzle stick.
2. Mango Bellini

Puree the flesh of 1 ripe mango in a blender until smooth (my note- mango's can be tricky- use a veggie peeler to peel then slice the fruit until you feel resistance from the seed- those seeds are weird! You can rarely get it all off!)
For each reveler, mix 1 Tbsp. of the puree with prosecco (Italian sparkling wine) or a sparking white grape juice in a martini glass or champagne flute. Garnish the rim with fresh mango slices (we used a star-shaped cookie cutter to make it even more festive)

3. Choco-Bean Chiller

Make a pool of chocolate syrup on a small plate. Dip the top of a martini glass into the syrup for a chocolately rim. Add some crushed ice to the glass then carefully pour some store-bought eggnog and a shot of coffee liqueur (such as Kahlua) or espresso. (Not exactly the right season for this drink so keep it in mind for later!)

4. Faux-jito

In the bottom of a tall glass, use the handle of a long wooden spoon to mash several mint leaves with 1 tsp. sugar and a splash of lime juice. Add a few ice cubes, fill the glass with ginger ale and give it a stir. Garnish with a sprig of fresh mint.

5. Candied Apple Toddy
(great for fall wedding!)
In a small saucepan, heat 2 cups of apple cider with a spoonful of cinnamon candies (such as Red Hots), stirring occasionally, until the cider is hot and the candy has melted. Pour into mugs and stir a small dab of butter into each. Spike it with rum, if you like.
6. Party Punch

In a large punch bowl, mix 1/2 cup frozen limeade concentrate (thawed) with a 64-oz. (1/2 gallon) container of grapefruit juice. Add plenty of ice, a cup or two of lemon-lime seltzer and some thin citrus slices. Ladle into cups and start sipping.
7. Nada Colada

In a blender, combine 3 parts pineapple juice with 1 part cream of coconut (not coconut milk), 1/2 tsp. almond extract and lots of crushed ice. Pulse until smooth and frosty. Pour into glasses, sprinkle with flaked coconut and garnish with a pineapple wedge. Add a little paper umbrella!
8. Ginger Beer

Fill a chilled mug or a tall glass with ginger beer (look for Goya or Reed's brands at your supermarket). Scoop in some creamy vanilla ice creamand sprinkle chopped crystallized ginger on top. Serve with a spoon and a straw!
>q&s tip- To crush ice, place cubes in a resealable plastic bag, cover with a towel and pound with a rolling pin or heavy skillet
These would also be great party or shower drinks!! I'm also loving this recipe for Mimosas from my fellow bride blogger. Anna on her fantastic blog Southern Fancy!
Refer to my last post on signature cocktails for more ideas!