In my Easter candy hunt yesterday at
Target
, I absolutely had to shop the end caps for clearance items too! :o) I don't think I've ever been without doing that! (Except in Oct. when I'd just gotten off crutches and could barely walk to the card department and had to turn around and leave before my foot fell off!!)
I came across these totally cute bachelorette party invites that I thought I should share!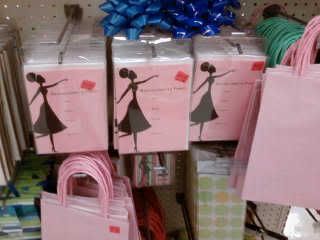 I think there's enough for about 50 bachelorette parties at the Brentwood Target! :o) They are even cuter than the pic shows, and are only $1.48 per pkg (I think of 10?)
This one only says "Just the girls," so it could be used for Bachelorette parties, bridal luncheons, etc. Super cute, but I can't remember the price! You can see that happy orange clearance tag though!!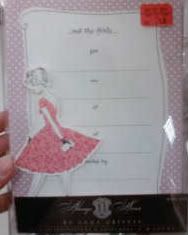 I still have some party invites I bought at Target awhile back to use for Kerri's blowout last year....then I never used them because evites were easier to do since we had to keep changing plans not knowing if I'd be able to walk or what I'd be able to do after my torn ligament! (THAT was an interesting site- a maid of honor on crutches hopping around with the girls- two weeks before the wedding!) I felt like a CRAPPY MoH! But I did my best!!  I guess I'll be saving the invites for whenever Kelley or Bridget manage to get themselves hitched!!
Evite
has lots of cute bachelorette party layouts to choose from if you'd rather go that route too! Best thing of all- they are
free
, your computer savvy girl friends can RSVP online, easy to send reminders and answer questions, and easy to keep track of it all for added/changing details!
For a wild night out.....
or a relaxing night in......
There's always the DIY or custom printed route for party invites too!
These invites from
Traylor Papers
 are super cute, and although they aren't super cheap- you probably won't need more than 1 or 2 packs of 10!
Any other ideas for bachelorette party invite?? Please do comment- to give some inspiration to my maids! :o)