I had a blast at
Target
and
Walmart
today! Ok, make that a blast at 2 Targets and 2 Walmarts! I was on the hunt for clearance Easter candy!! I actually didn't buy much of the stuff this year- surprise! Those Cadbury eggs and Peeps are my downfall!! But I'd seen lots of bags of only blue candy, so I had to go hit the clearance to check it out!
My mom had already snagged a few bags of various shades of blue
Jelly Belly's
and
M&M's
, and has also been on the hunt for more. In fact, she even hid several bags of both in the hardware section of Wal-mart, behind some stuff she was sure would never sell, in hopes that she could come back and get it later when it would be on clearance! (Wonder where I get it from??) Can you believe it wasn't there??!! :o) She said that when she was moving boxes to look for it yesterday, an employee came to ask if she needed help and she had to act nonchalant and say no! She couldn't exactly say- help me find my candy that I hid!! Haha! Oh well, she tried!
I did find a few bags of blue candy and after adding those to what my mom already has and finds, we'll either use them for  my cake reception, or a shower or bridal luncheon.
I've seen a lot of people-especially on
Wedding Bee
(see this stinkin' cute "
Project Egg
" from Miss Cream Puff)- using mini cadbury eggs as favors or on candy buffets! I saw lots of them left at both Target and Walmart-- Walmart had more in individual colors and Target had more of mixed colors! If you can't find any around anymore- they are already for sale on
eBay
!!! On a whim I looked them up thinking how funny it would be if they were there! And they are!!
These are some green only ones from Wal-mart....I got some similar blue ones. They have tons of green ones at the Cool Springs Wal-mart if you are looking for green candy!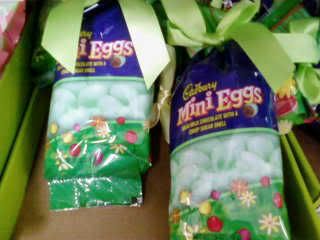 Target- Cool Springs had a ton of the mixed ones in regular sized bags and small bags....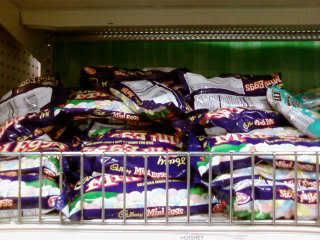 If you're colors are pink- hopefully you hit up candy at Valentine's time, but if not- no worries- I saw LOTS of pink candy out there like these Hawaiian Punch and Jolly Rancher Jelly Beans and pink Robin's Eggs....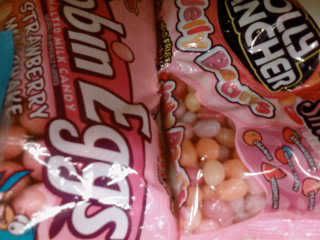 I also saw some great baskets at Target that weren't too "Easter-y" that could work for Out-of Town baskets. I'll probably end up with bags or pails to go with the beach theme, but I saw some that could be perfect for a spring wedding! They had lots of these cute baskets in pink, blue, and green still.
Or these cute gingham blue ones...
And how cuter could you get for a wedding on a golf course or with bachelor's who'll spend the weekend golfing. These are "Easter baskets!"
I wouldn't worry at all about any candy going bad- as long as you are using it this year! I've checked the dates on all the candy I've bought to make sure it'll last until July! Also, be aware that not all stores still have the same items- or have stuff left at all! I went to one Wal-mart today that had one small section of stuff left, and they were packing it up and moving it out as I walked by!
If you're dying for candy that is customized in your wedding colors and it's not in holiday colors, or want to go the extra step to make them personalized, definitely look into
My M&M's
. You can even print your names and wedding date on specific colored M&M's! If it was in my budget, I'd do it!! :o)